1. Event Title : "Redefine Yourself".
2. Event Description (Detailed information of the event)
            
Ojas Eduland is organizing workshop for 9th std to 12th std students .
Event Details:  Half day Workshop
It is a half day workshop for students to redefine their (a) Body, (b) Mind and (c) Consciousness integrally.
Benefits of attending the workshop
Assess personal values and life goals
Enhance clarity and emotional balance
Upgrade study skills
Improves communication skills
Reduce stress and stabilize health
3. Event Venue: Complete Address including Pincode
Z- 72(A), Door no – Z -117, Ground floor, Z block,
5th Avenue, Opp to DSK Benelli Showroom,
Near Blue-Star Saravana Bhavan Hotel,
Opp to DSK Benelli Bike Showroom.
Anna Nagar west, Chennai – 40
Email: ojaseduland@gmail.com
For : 9th std to 12th std students
 
4. Contact Information: Event Organizer's Name, Mobile, Email, Office/Resi phone
 Event Organizer's Name : Team Ojas
 Mobile, 94984 25898 / 99 86 58 44 33 / 8939553898
 Email,: — ojaseduland@gmail.com
Office phone 94984 25898
5. Age Group the event is applicable for. If the event is also for parents, please mention it.
13 – 17 yrs.  No event is scheduled for parents but they can accompany their kids.
 
6. Start Date and End Date
25th December 2017
7. Start Time and End Time. If there are multiple batches, please mention them.
Start time and End Time : 
2pm – 6 pm
 
 Registration fee : Free for students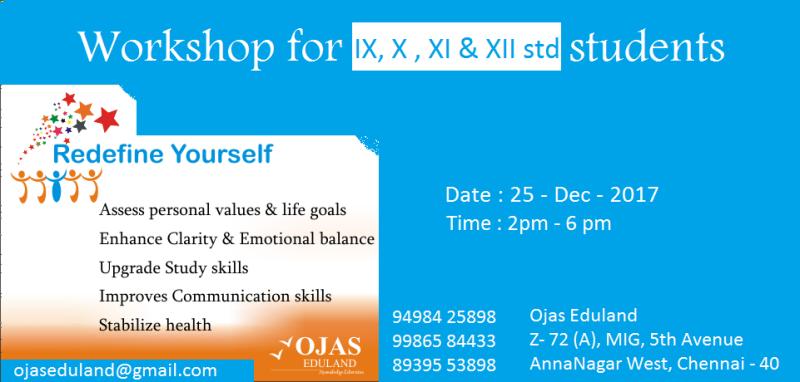 Free workshop for 9th std to 12th std students ( 25 Dec 2017)