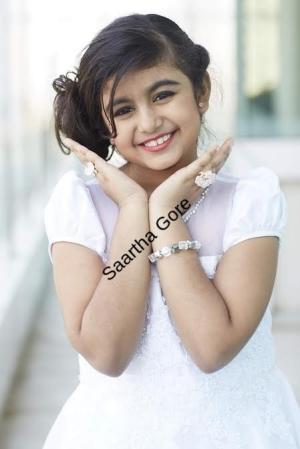 Kidscontests.in is happy to introduce Saartha Gore, the little talented dancer, model from Mumbai.
Saartha is a 9 year old child studying in Podar International School, Mumbai. She has won Western Dance Competitions, story telling and fancy dress competitions. She is featured in the top 51 India Cutest Kids.
Here are her achievements:
1) WON WESTERN DANCE COMPETITIONS @
SUBURBAN LEVEL, BAL KALA UTSAV IN DELHI
PARTICIPATED IN CHENNAI COMPETITION
2) DOES MODELLING AND FEATURED IN TOP 51 INDIA CUTEST KIDS, ALSO FEATURED IN INDIAS CUTEST KIDS CALENDAR, RAMP WALK AT INDIA KIDS FASHION WEEK, PARTICIPATED IN GLADRAGS LITTLE MISS INDIA
3) WON 1ST PRIZE IN STORY TELLING @ CHENNAI
1ST PRIZE IN FANCY DRESS
ALSO MANY PARTICIPATION CERTIFICATES IN OLYMPIADS, DRAWING,ETC.
CONGRATS SAARTHA!! Keep Achieving More & More dear !!