We are happy to announce that the first batch of "Tame the Stage" program has been successfully completely with great spirit.
From watching TV for a long time has been transformed to observing people. From awareness of Gratitude to let go of Fear, they have learned many values.
At this juncture, We are happy to know that they are emerging as Super Champs of life, it is my pleasure and honour to invite all of you to the Graduation Ceremony and also to participate in the Public Speaking Contest.
Story Carpet is conducting a Public Speaking Contest with a strong vision in mind towards preparing the children towards a fearless future and extraordinary communicators. Those who sow the seeds now will definitely reap the fruits later.
PUBLIC SPEAKING CONTEST IS OPEN FOR ALL. Please nominate your children.
Date: 23rd April 2017
Time: 9.30 AM to 1.00PM
Venue: Swarna Sudharshan Hall, Nanmangalam, Kovilambakkam
To Register: Call/SMS/Whatsapp: 9677070837
Facebook Link: https://www.facebook.com/StoryCarpet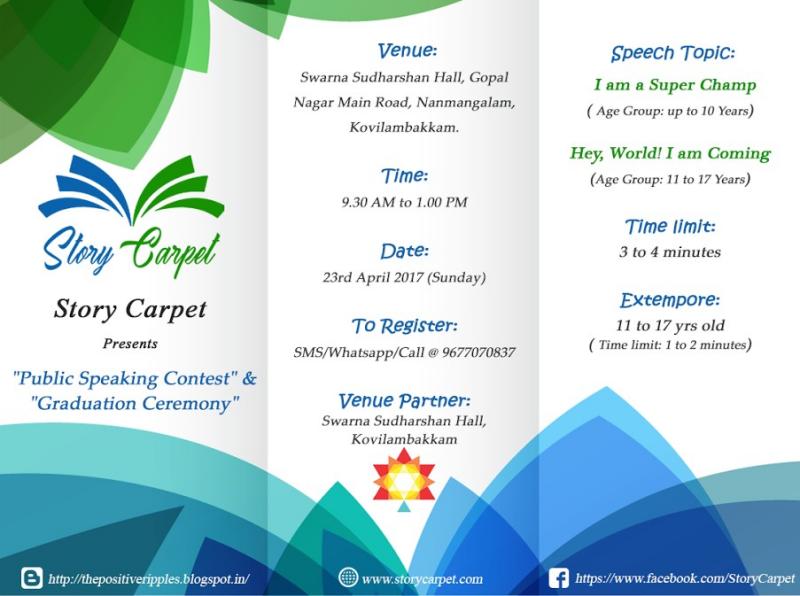 Public Speaking Contest for Children on April 23