Workshops on 26th & 27 nov 2016 @ Ojas.
Social Skills.
Date : 26 – Nov – 2016, Saturday
Time : 10.00 to 12.30pm
Eligibility : LKG to V std students
Kindly register before 25 th Nov , Friday
It is a half day workshop for LKG to V std students.
There is no doubt that "social skills" is one of the most important skills a child can posses.
We as parents and teachers show incredible care to the academic growth of the child which involves reading, writing, etc.,
When comes to personal growth of the child……, here is where we may have to become more caring. This half day workshop will help our LITTLE PEOPLE to understand the need of appropriate social skills.
Few benefit of practicing the social skills :
 Minding manners
 Using magic words
 Creating positive image
 Open dialogue & communication
 Dining etiquette.
Kindly enrol your children for the workshop & see your kids evolving in a better version as a super kid.
Team – Ojas Happy Birds Academy.
[Note: Tea/ coffee / milk -snacks will be provided for participants.]

Healthy & Wealthy Birds.
Date : 27 – Nov – 2016, Sunday
Time : 9.00 to 4.30
Eligibility : 5 th – +2 students
Kindly register before 26 th Nov , saturday
It is a one day workshop for V std to XII students.
This workshop is designed to give the children clarity about the real need of education and money.
Children will have an understanding about monetary use and they will see life in different angle.
Health (food habits & sleep) is the most overseen area by this generation children due to invasion of various unhealthy foods & new gadgets, and here we explain the need of health which reflects in the children's education & growth. Participants will understand the difference between use and abuse of technology which is having direct impact on their growth.
In a nutshell this workshop will show light to new path that the student never knew existed, facilitate them to carry out the talent and clarity which they gained here, for the rest of their life.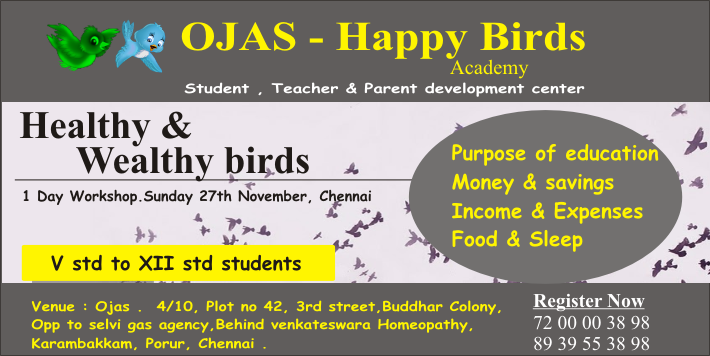 Regards,
Team – Ojas Happy Birds Academy
[Note: Lunch, morning & evening tea/coffee-snacks will be provided for participants.]
Workshops on 26th & 27 nov 2016 @ Ojas