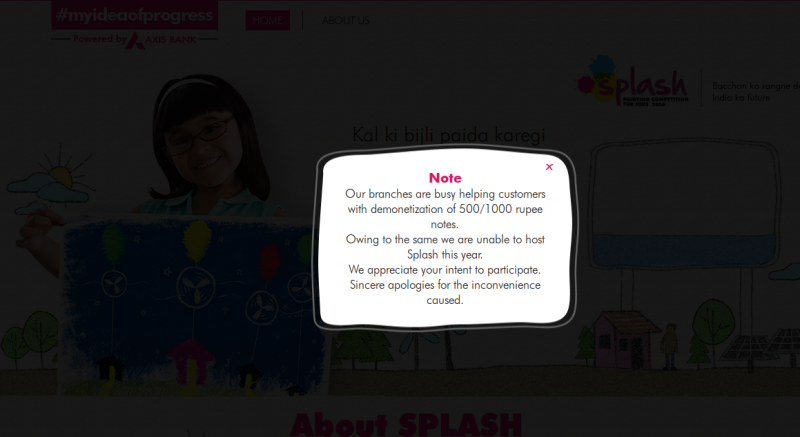 AXIS BANK SPLASH PAINTING COMPETITION CANCELLED For 2016 owing to the currency demonetization.
Axis bank branches are busy helping customers with demonetization of 500/1000 rupee notes. Owing to the same they are unable to host Splash this year.
We appreciate your intent to participate.
Sincere apologies for the inconvenience caused.
Details : http://www.myideaofprogress.com/splash/index.aspx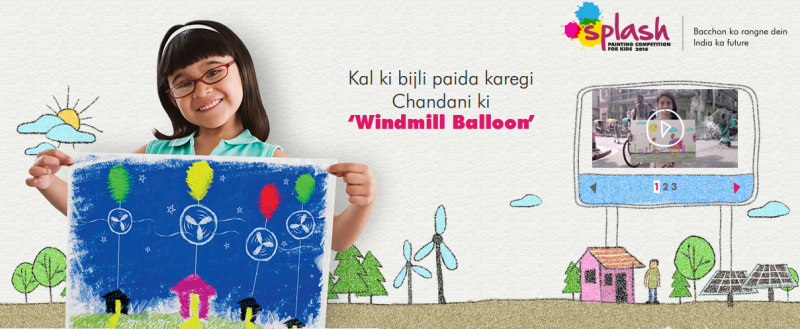 Interested participants are required to register themselves online in order to participate in Splash 2016.
Age group of 7 to 15 year old, birth date should fall within the range of 7 to 15 years as on 14th November 2016.
The prizes for 2016 Axis Bank Splash Painting Competition are: The National Winner gets a scholarship worth Rs. 3 lakh and his/her idea will be brought to life , in association with NID and IIT Bombay.
Top 10 Finalists get an all expenses paid trip to ISRO.
The themes for the contest are
o How will I use technology for a better India tomorrow
o My idea to make education available for everyone
o An idea that can save our environment for the future
Axis Bank Painting Competition 2016