Brainekids , are the people who believe in learning via experience and experimentation, hence that's what we let your kids to experience and experiment.
This is 21st century's preschool where toddlers learn by understanding, and experience what they learn through the innovative concepts of "Xplore , Discover and Learn". Thus sparking the genius in them and leading them to ace up in everything.
Brainekids are the people aiming to transform the next gen education from the first step. We believe involving children is the only way to encourage learning. We provide an environment so charming and energizing that kids just love to be in. We provide them with care, knowledge, play, activities, inquisitiveness, energy and the environment that promises their holistic development.
Unique syllabus, safe & stimulated physical learning environment, Theme and Activity based learning experiences is where your tiny tots would learn every little concept in a way that stimulates their minds, explore them, see, touch and discover with the help of Creative and Innovative toys , Projector based Audio visual aids , Fun filled activities and Field trips.
Brainekids adopts a theme and activity based approach based on 8 Smart development curriculum where children learn Communication, Interpersonal skills , Social Ethics and Etiquettes , Literacy, Numeracy all within the same theme, which enables the child to develop attitude, skills and knowledge in a meaningful way.
The facilities include 4000 Sq.ft Spacious place with Natural Ambience , Vast Indoor and Out door Play area , Kids Gymnasium , Ball Pool , Individual AC classrooms with Toilets , Classwise child friendly Exploration toys etc.,
Our 8 Smart curriculum helps your child to develop skills in Word , Logic , Art , Music , nature , people , Self , Body .
etc. along with the ABCs. Thus this helps in developing their Cognitive skills , Fine and Gross motor skills , Social and Emotional skills , Language skills , Self help and Communication skills. We have the perfect formula of the right mix of play, learn and activity.
We understand what is taught and how it is taught is vitally important. Every child is different and is to be nurtured differently. We provide an open environment as it is the best way to foster skills.
We believe we are very good at what we do for a school is only as good as the people behind it. More than 100 students graduating Kindergarten from Brainekids since 2010 have been admitted into top reputed schools like
DAV Matric & CBSE
Chennai Public School –
Vellammal group of Schools – Matric & CBSE
Spartan Matric & CBSE
Rabindra Bharathi CBSE
Narayana School
across Chennai thanks to their rock bottom foundation in early education from Brainekids. We make kindergarten the best childhood experience ever.
For more details walk into Brainekids 8 Alex street Panneer Nagar Mogappair east. # 26563489 / 8056215564.
Visit us and See the difference.
Join us and experience the difference.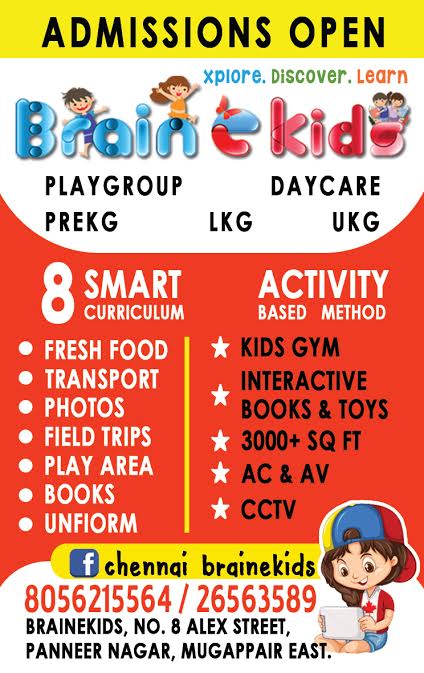 ADMISSION OPEN IN BRAINEKIDS FUN CAMPUS