Greetings from Robotixlab Research Academy!!!!
It is with great pleasure to invite you to the Second Edition of our annual Robotics workshop cum competition – Robofest. This year we introduce India's first Mega structure Challenge.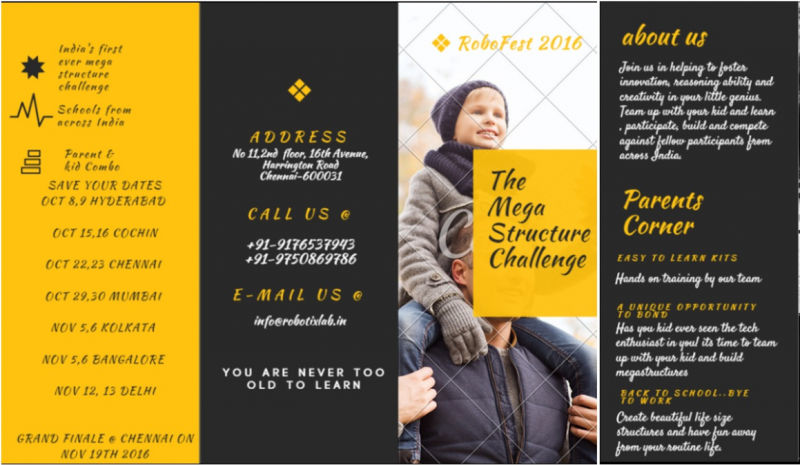 About the event:
Robofest 2016 is a platform for students to learn to build a prototype of life model mega structures such as creating a factory setup, an amusement park etc. as they challenge their design with co participant teams. The final Output will also be a visual treat as a mini expo for non participants too.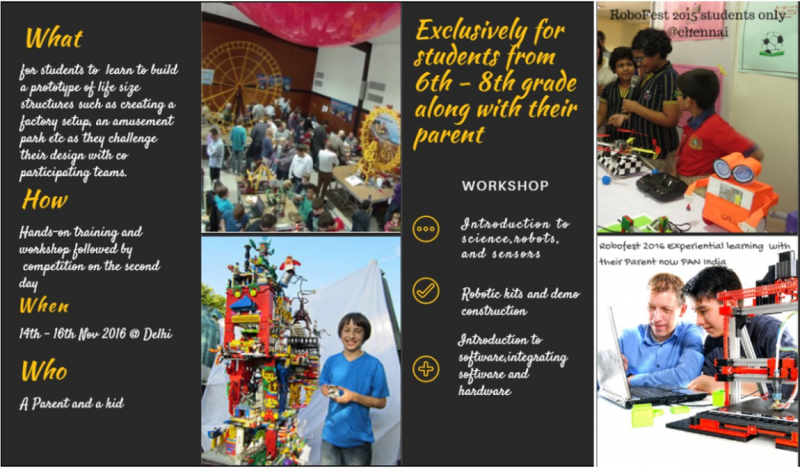 The competition is made more interesting for the students to participate along with their Parents, as a team (consisting of Parent and a Kid). This event will be a two day affair with workshop which will be a pAre event support for the team to understand what the product they have to work with and get ready for the competition, Which means there is no per-qualification required for the participating pair, we will get them ready for the Competition which will be held on the following day.
Keeping the understanding levels required the criteria fixed for participation is for Students from class 6 to class 8 exclusive as a middle school program where the children enjoy the company of parents on any participation.
We also have a Special option for schools: One day hands-on-training on Building Mega structures will be provided within the school. The school must provide a minimum of 50 enrolments.
Please find attached brochures of Robofest 2016. Visit http://robotixlab.in/robotfest2016.html for details about registration, dates and venue.
www.robotixlab.in for more updates.
Glimpse of Robofest 2015 : http://robotixlab.in/new/2016/08/01/robo-fest/