Shriram Ilakkiya Kazhagam organizes its annual Thirukkural Elocution Contest 2016. Shriram Ilakkiya Kazhagam is the literary wing of Shriram group.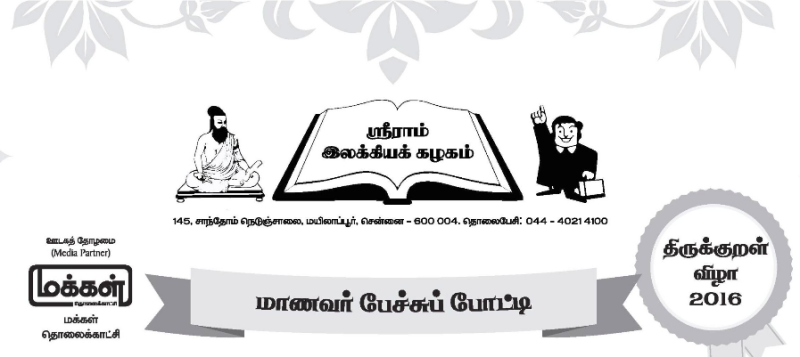 Thirukkural Elocution Contest is from July 30- Aug 28 for school and college students in Tamil Nadu and Puducherry.
The preliminary rounds will be held will be held on July 30 at Dr. MGR-Janaki College for Women, R. A. Puram for Chennai Students. The venues and dates for other towns and cities of Tamilnadu are as follows.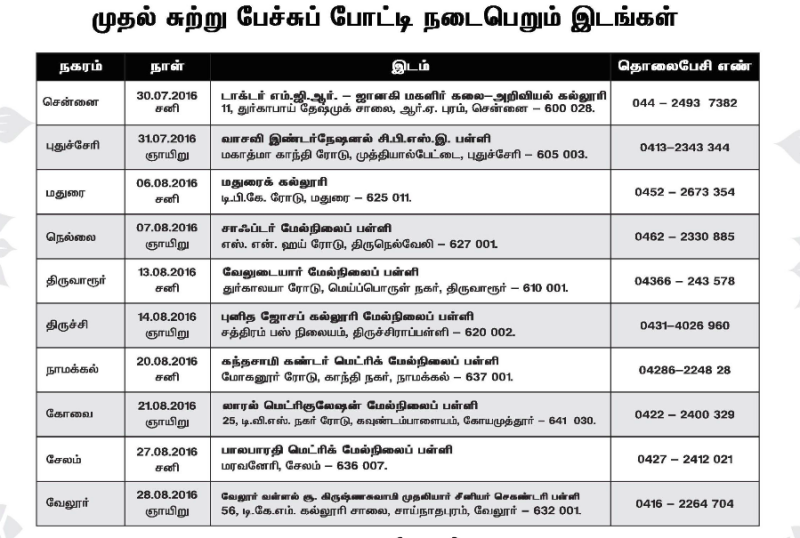 The contestants will be divided into four groups, Juniors (Standards VI to VIII), Seniors (Standards IX and X), Super Seniors (Standards XI and XII) and college (UG, PG, engineering, medical and polytechnic students).
Each institution can send two entries from each class. At the college level, 4 students can participate.
Topics for Each Category are as follows: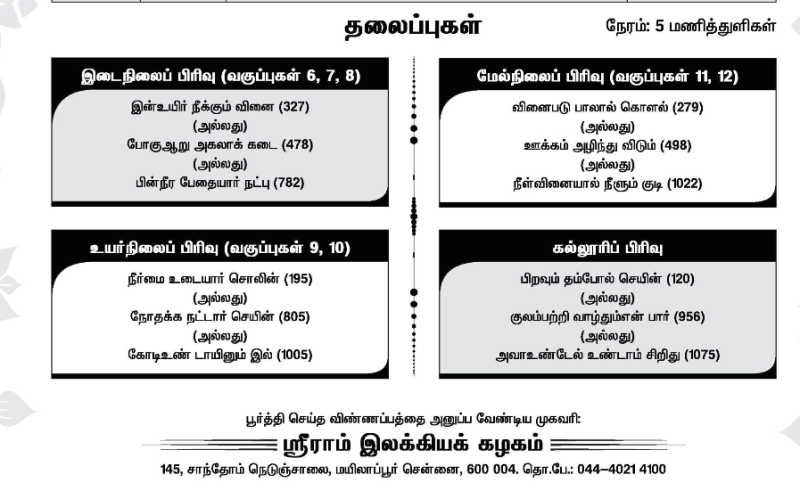 The competition will be conducted in three rounds: preliminary, semi-final and final. The preliminary round and semi-finals will be held on the same day at the same venue.
Winners in each group will be given a cash award of Rs. 10,000, Rs. 7,500 and Rs. 5,000 as the first, second and third prizes, respectively. The first prize winners' school/college will be presented with a shield.
For All the Details of the Competition Please Visit : http://www.shriramchits.com/css/Thirukural_Vizha_Application_Form.pdf
Interested people can collect the application forms from the nearest Shriram Chits branches or from Shriram Chits at 145, Santhome High Road, Mylapore.
One can download it from www.shriramchits.com. Last date for submitting the filled in application form is July 23.
Ph: 40214100.
Thirukkural Elocution Contest 2016 by Shriram Ilakkiya Kazhagam