Annual Art Olympiad 2016-17 conducted by Small Hand Big Art accepting entries from Schools now.
This is a National Level Art Competition and entries will be collected through schools ONLY.
Annual Art Olympiad is in collaboration with Lalit Kala Akademi and Sir JJ Institute of Applied Art – two of the finest Institutions in the field of Fine Art in India.
Winners Art Work displayed at one of the most premier Art Galleries in India and monetary awards and 'Certificate Of Merit' to the winners. Certificate of Participation for all Students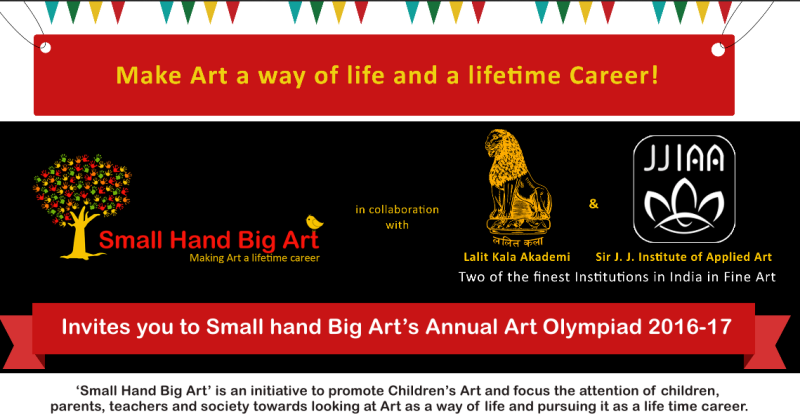 Categories:
Four category of participants based on age
A: 5-8 years, B: 9-12 years, C: 13-15 years, D: 16-17 years
Process of Participation:
1st June – 30th Sep 2016 : Schools to conduct Small Hand Big Art's "Annual Art Olympiad Day" on a day of their choice in discussion with AAO Coordinators.
All Art Works to be made on paper sheets of A4 size ONLY. No canvas paintings will be accepted.
Any theme and any type of colour or pencil can be used.
Each student can submit a maximum of 3 Art Works.
Application Form to be submitted along with the Art Work and Application Fees.
Parents to send application Fees of Rs 150 per Art Work to the school, along with the completed form(Rs 300 for two Art Work and Rs 450 for three Art Work submitted).
Results declared on the website www.smallhandbigart.com by Jan 31, 2017. Art Exhibition and Sponsored Workshop by the 3rd week of May, 2017.
Last Date to send Art work: 30th September 2016
Find the Poster of the Competition Here : http://www.smallhandbigart.com/brouchers/poster.pdf
For All the Details of the Art Olympiad 2016 – 17 : http://www.smallhandbigart.com/olympiad.php
Small Hand Big Art Annual Art Olympiad 2016-17