Greetings from Codewhite. We are a Health Education Startup based out of IIT Madras Research Park in Chennai.
We focus on comprehensively educating our nation's young generation on various subjects of health. We aim to cultivate and nurture the right perspective on Health care and Wellness during the educational phase of a student.
India's health problems are huge and adversely affect millions of people every year. Education is the most powerful tool that can pave the way to providing effective solutions to most of the societal issues. Codewhite aims to take health education to the grass root level. We envision a 'Healthy Nation with a Healthy Generation' in the years to come.
With regards to it, we are conducting Summer Workshops on Health Education for children between the age group of 10-17 years between May 21st and May 31st.
Below are the details for the event and the registration link
https://in.explara.com/e/codewhite/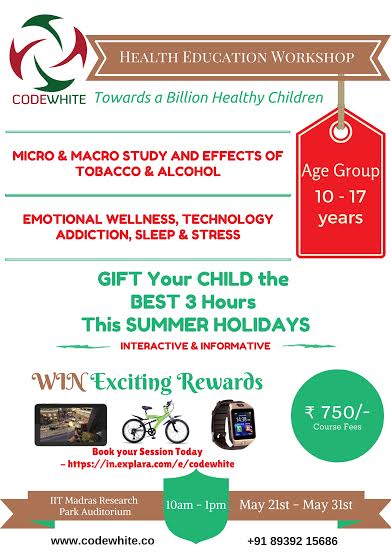 Codewhite – Health Education Workshop for Children