Dear All,
I Invite you to attend the function if it is possible. If not possible think of us. We are at a distance of a click away.
Dr. V. Jeyaraj,
Director, Hepzibah Institute of Heritage Conservation,
Executive Trustee, Hepzibah Trust,
21, V.O.C.Street, M.G.R. Nagar,
Chennai-600 078. India.
Mobile: +91 9381008253 | Tel: +91-44-24745944 | Email: drvjeyaraj@gmail.com
Invitation for the Prize Distribution Function: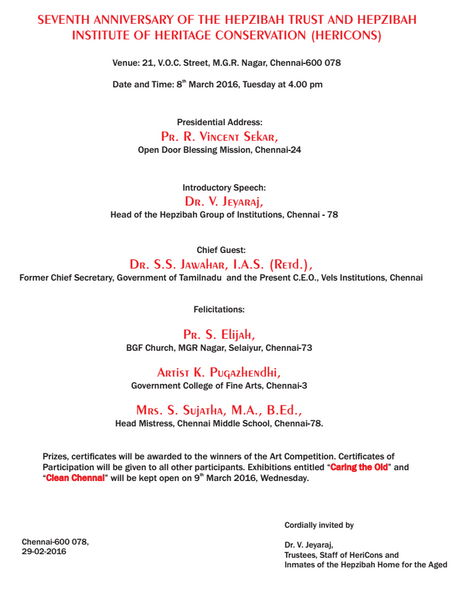 We are conducting a rally involving students and interested well wishers of the Hepzibah Trust. The trust will start from the Ajantha Tailor's Bus stop in MGR Nagar will reach the Hepzibah Trust Office via 100 feet road, Periyar Street, VOC Street.
Prize Winners List of the Drawing Competition Conducted by Hepzibah Trust in February 2016.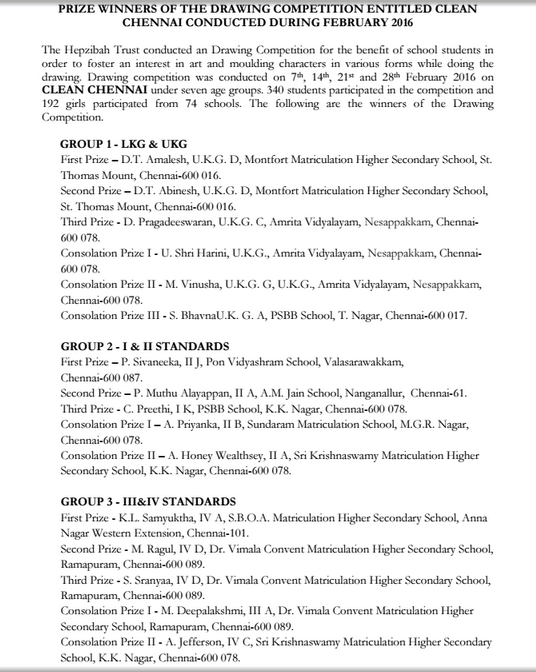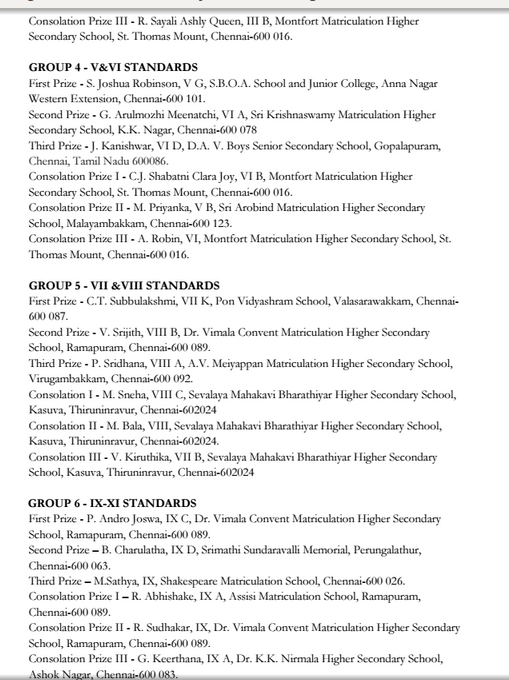 Prize Winners for the Drawing Competition conducted in May 2015: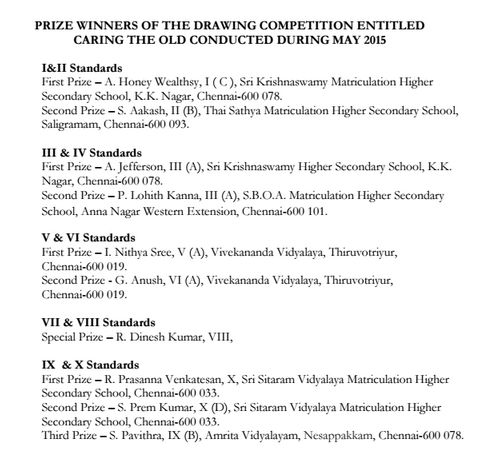 The Hepzibah Group of Institutions are conducting the prize awarding function for the winners of two drawing competitions conducted during May 2015 on Caring the Old and during February 2016 on Clean Chennai at 4 pm on 8th March 2016 at the address given below.
At 3 pm there is a City Cleanliness Awareness Rally which starts at the Ajantha Tailors stopping in MGR Nagar emphasizing the importance of cleanliness.
We have enclosed the list of winners of the competitions.
An exhibition will be conducted. The exhibition will be kept open on 8th and 9th March 2016.
The paintings drawn by the students will be available on sale.
Hepzibah Trust Prize Distribution Function & Drawing Competition Results