Greetings from ScienceUtsav,
In search of the next Einsteins, Ramans and Kalams of India
We Present
Bangalore's Biggest and first ever,
PRACTICAL SCIENCE QUIZ COMPETITION 2015-16



Watch out for our Weekly Online Science Quiz.
Loads of Prizes to be won @ Bangalore is for Science Lovers group on FB!!
This is the first of its kind quiz in the country which is aimed to help kids explore and learn more about Science and Technology with practical help and support.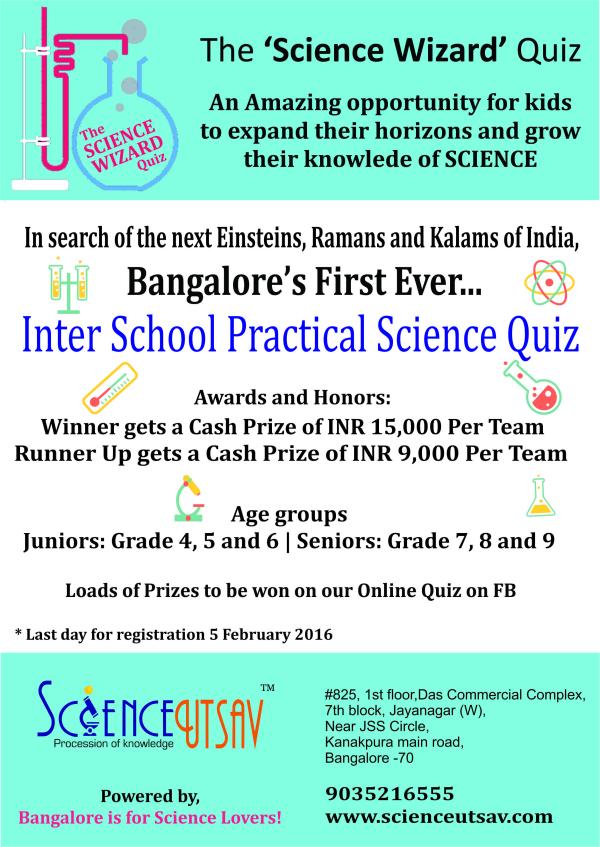 Quiz is meticulously designed by our research team to bring uniqueness and allow the spectators and participants to experience science practically. Quiz includes Science experiments, Hands-On projects, Charades, Games, Expressions and much more.
Participants have to clear a written quiz to be party to the final 5 for Practical quiz experience which can be experienced on stage by all school children as spectators. ScienceUtsav will conduct a written test for all the participants at the school premises.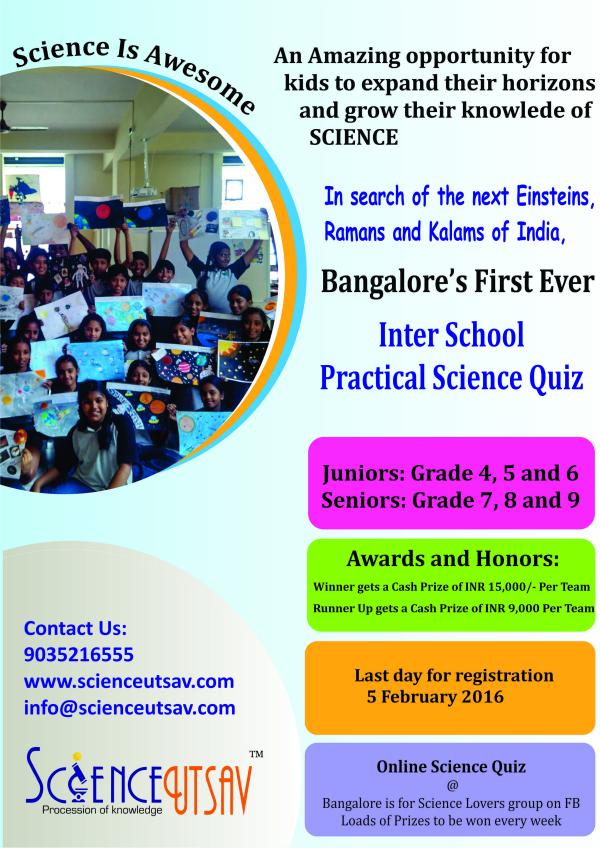 ScienceUtsav's staff will contact and fix a date and time with the school.
Competition will be held in 3 different levels and two categories
Written Test, Inter-School Practical Quiz, Finals
Category1: Grade 4, Grade 5, Grade 6
Category2: Grade 7, Grade 8, Grade 9
5. The finalists will be contacted by ScienceUtsav and will be required to visit the decided venue for the final round as set by ScienceUtsav along with a Coordinator from the School.
6. Registration fees per participant is Rs. 60
7. Entries must be submitted by the School Only.
Awards and Honors:
Winner Grand Prize is a Cash Prize of INR 15000 for the winning Team.
Winner Runner up 1 will be entitled for a Grand Cash Prize of INR 9000 for the team
Winners at Zone Level will be entitled for science goodies
All participants will be awarded with Participation certificates.
*Last dates for entries is 15th of Feb 2016
**Interschool and final round will be held on 20th Feb 2016
For Further Details : http://www.scienceutsav.com/kidzone.php
Contact :
Shobhana – 9035216555 | Supreetha – 9035216333
info@scienceutsav.com | bangalore@scienceutsav.com
www.scienceutsav.com
For Online Quiz Join Fb Group : "Bangalore is for Science Lovers" and win Prizes every week!
https://www.facebook.com/groups/scienceutsav.bangalore/
PRACTICAL SCIENCE QUIZ COMPETITION 2015-16 in Bangalore