Greetings from ScienceUtsav,



Event Details:
Title : Discovery Saturday's – Photography… Science, technique and art.
A Hands-On Workshop on Basic Concepts in Photography for Kids
by Dr Murali Thondebhavi. (MD. FRCA. FFPMRCA)
Amazing platform for aspiring Photographers to pull their Cameras out and start taking amazing pictures. ScienceUtsav presents our next Discovery Saturday for kids to learn some basic things in photography!!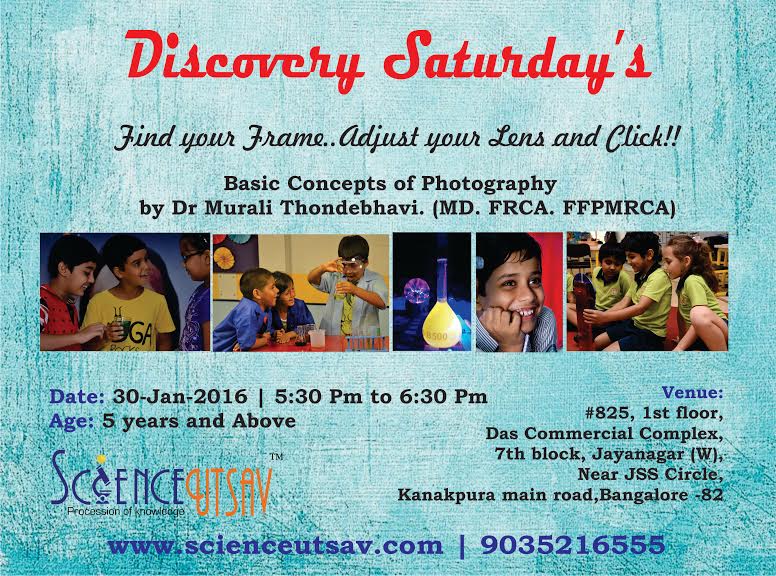 What do you get to learn?
Science behind pictures
Basic rules in Photography
Basic settings in the camera
Rules to take a good picture
Age : 5 years and Above!
Terms and Conditions:
1.Bring a camera to grasp the depths of your skill with practical learning.
2. Empty brain to fill with all the cool things you will learn
3. Lots of excitement!!

About Discovery Saturday:
Discovery Saturday is a very good platform to meet, talk and Learn from Community heroes like Doctors, Scientists, Teachers, Engineers, Lawyers, Sports person, Actors etc
About ScienceUtsav:
ScienceUtsav is a parallel educational program for children of age 05 to 14 years. We strive to create an interactive learning platform for the participants through hands-on activities, science experiments, fun projects, science games, puzzles, science expeditions, role plays and other innovative pedagogy techniques. We believe that "practicality is everything"!
We have 40 branches across India.
When?
30th Jan 2016, Saturday at 5:30 PM
Where?
ScienceUtsav, Jayanagar
#825, 1st floor,Das Commercial Complex,
7th block, Jayanagar (W),
Near JSS Circle,
Kanakpura main road,
Bangalore -70
Phone no.: Shashank – 9035216555/9035216333
Website: www.scienceutsav.com
Facebook: http://www.facebook.com/pages/ScienceUtsav
Discovery Saturday's – Photography… Science, technique and art.