Clusters- 2015 brings a wonderful opportunity for your kids to participate and win in a variety of competitions.
There are 3 different categories
3-5 yrs on Oct 31 st
6-8 yrs on Nov 1 st
9-12 yrs on Nov 21 st
Art Competition – on Nov 22nd
Drawing Competition Details: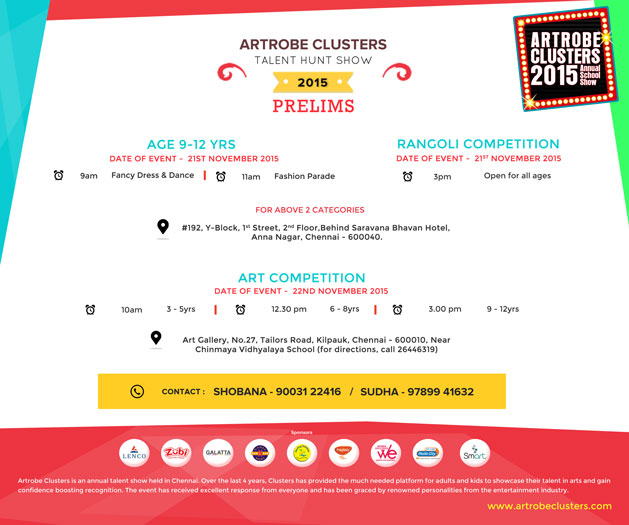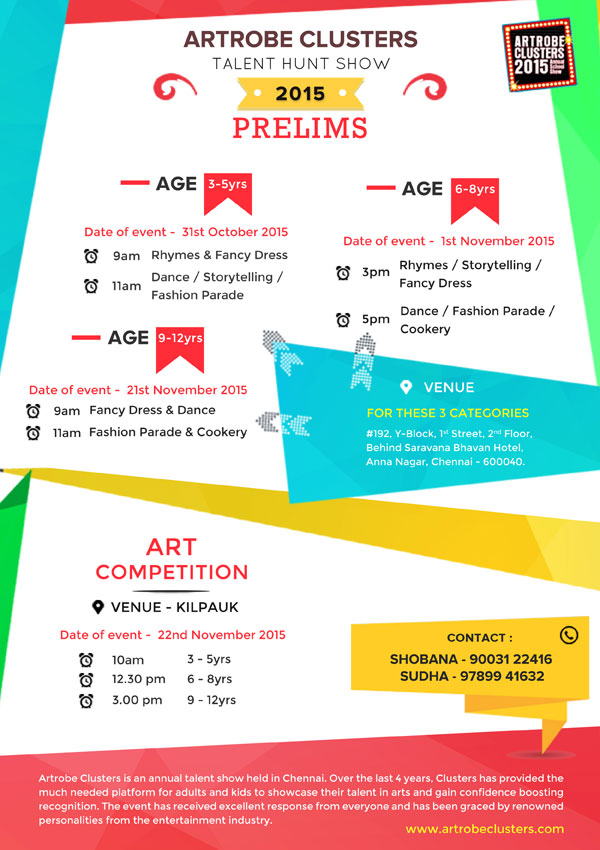 Contact Nos. Shobana – 9003122416
Sudha – 9789941632
Registration to be done online only.Fee Rs.100/- per event.
Kids can enroll for any number of events.
After making an account transfer please send us a mail.Kindly mention the following details in the mail
Participants name, Age, DOB, Events participating in
Kids should be present 30 minutes before an event.
Kids have to bring required materials for Drawing / colouring / painting. A3 size papers will be provided.
Time limit for dance – 3mins.
Participants in dance competition need to give their songs in a pen drive 30 mins before the event.
For Fancy Dress participants. No theme.Space will be provided for getting changed.
No eatables allowed inside the premises.
Fashion parade theme -"Fashionable and Trendy"
Time limit for rhymes and storytelling – 3mins.Any topic.
Judges decision is final. No queries on judgement will be encouraged.
Parents are not allowed inside the competition rooms except for stage events.
Events can end before or after said time.
Winners will be awarded with a certificate and trophy.
Parents are responsible for their kids and belongings.
Spot registrations is not allowed.