YELLOW TALKS Essay competition, which has begun on September 10th, will end on September 30th, is an excellent opportunity for your students to apply their lessons from the classroom to a real world situation in the country.
The topic for the competition is "POWER OF UNCONVENTIONAL THINKING" .
There are three groups, where the participants are from 5th to 7th standard under Junior Level category,8th to 10th standard are under Senior Level category and 11th and 12th as Super Senior level category.
The Grand Prize Winner from each group will, be eligible for attractive prizes, that will provide the real-world experience of participating in the construction of their idea as it is turned into a live project.
There will also be announced 15 best essays 5 from each category. The winners are determined by a team of Judges mentioned in the attachment. This can be a great resume builder for your students.
Students submit their ideas by emailing in essay@yellowtalks.com.
The detailed competition guidelines are mentioned in the banner below: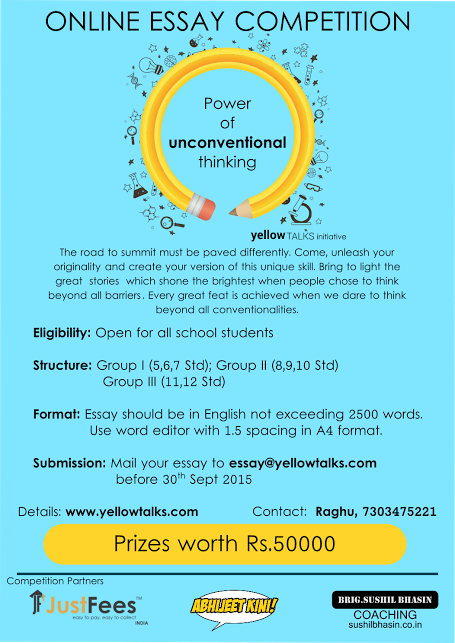 YELLOW TALKS Essay Competition