National Cyber Olympiad (NCO) by SOF – Science Olympiad foundation is open to students from Class 2 to Class 12.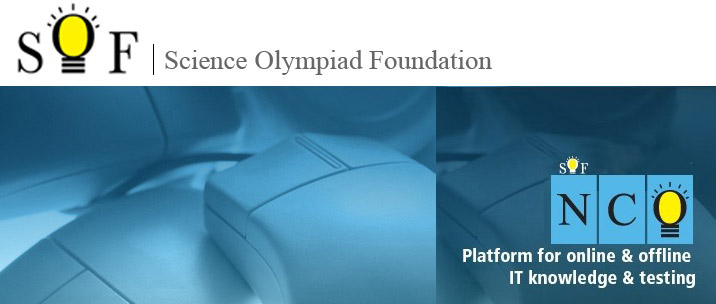 Children can participate in NCO through their respective schools. Schools must fill in the registration forms sent to them by SOF, complete in all respects by the due date. Request for registration forms can be sent by schools at info@sofworld.org
SOF on receiving the application forms will send the admit cards, guidelines for the conduct of exams, question papers. For Details on how to participate in NCO, Visit : http://www.sofworld.org/nco/nco-exam/how-participate.html
NCO is conducted on 2 dates for Level 1. Both the dates will have different question papers. Those students who qualify from Level 1, will take the Level 2 Online Examination at the centres allotted to them by SOF.
The level 1 competition is a written objective-type test of 60 minutes duration comprising 35 objective-type (Multiple Choice) questions for class 2 to class 4 and 50 objective-type (Multiple Choice) questions for class 5 to class 12.
For all details of syllabus for NCO, mark allocation in various sections, criteria for qualifying to Level 2 of NCO etc. , Visit the SOF website for NCO : http://www.sofworld.org/nco/about-nco-exam
National Cyber Olympiad (NCO) by SOF