The ModelShop School Science Championship seeks to promote excellence by encouraging students to undertake individual or team Science Experiments. This is India's first offline PRACTICAL Science Challenge with DIY Kit.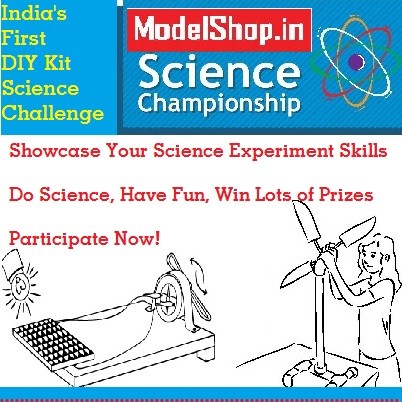 Championship is designed by Ex-ISRO Scientists, Science Talent Search Winners and Distinguished Educationalists.
Participants are invited for learning with simple Do-It-Yourself science kits in the fields of Energy, Electromagnetism, Mechanics, Electronics and Basic Sciences. All Participants are required to choose 3 categories and pay an Entry Fee to register for the competition.
For more details on the competition process and other guidelines on participation visit : http://modelshop.in/school-championship.html
Eligibility: All Schools that provide quality Science Education can register themselves as partner for this Championship. The Students of these schools can compete as an individual or as a member of a team.