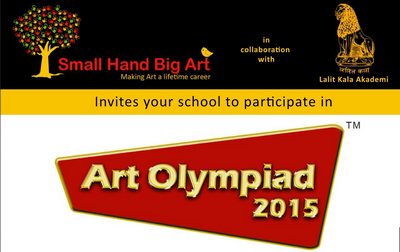 Small Hand Big Art Art Olympiad 2015 will be a collaborative event with Lalit Kala Akademi – The most prestigious institution in the field of Fine Art in India.
Entries will be collected through schools ONLY.
Categories:
A: 5-7 years, B: 8-10 years, C: 11-13 years, D: 14-15 years
Awards and Recognition will be provided to 100 winners of the Art Olympiad – The Winning Art Works will be displayed at one of the premier Art Galleries in India.
Top 100 Winners (25 in each category ) will get Cash Awards and Certificate of Merit. The Certificate of Merit will be jointly signed by Small Hand Big Art and Lalit Kala Akademi.
All Art Works need to be made on paper sheets of A3 size (16.53 x 23.39 inches).
Each student can submit a maximum of 3 Art Works.
The entry fee for each Art Work submitted is Rs 150/-. Therefore fee for 2 entries would be Rs.300/- and for 3 entries the fees would be Rs 450/-
For More Details of the Art Olympiad 2015 visit : http://www.smallhandbigart.com/shba3.pdf