Event Title: ART SPLASH-2014
Event Description (Detailed information on the event)
STATE LEVEL DRAWING & PAINTING COMPETITION, FUND RAISING EVENT FOR THE POOR CHILDREN,DISABLED PEOPLE,ORPHANAGE ETC..
DRAWING & PAINTING THEMES:
1.Common,2.Environment,3.My Dream,4.India,5.Sports 6.Social awareness,7.Famous Personality (Pencil shading)
8.Water Painting – Scenery, 9.Oil Painting – My City
RAVIVARMA AWARD FOR WINNERS*, ASSURED PRIZES & CERTIFICATE FOR ALL
3. Event Venue: Complete Address including Pincode
THIRUVALLESHWARAR MAHAAL A/C, PADI,CHENNAI-600050.(NEAR THIRUVALLESHWARAR SIVAN TEMPLE)
4. Contact Information: Event Organizer's Name, Mobile, Email, Office/Resi phone
GLOBAL ACHIEVERS FOUNDATION,
PH: 9551625800/8144890744
www.globalschools.in
E-mail:mail2globalachievers@gmail.com
5. Age Group the event is applicable for. If the event is also for parents, please mention it.
2YRS.- 25YRS.
6. Start Date and End Date
22/06/14 – 22/06/14
7. Start Time and End Time. If there are multiple batches, please mention them.
8AM-6PM
8. Fee: Free or Paid. If paid, please mention the fee. If there are different fee structures for different groups, please mention them all.
RS.200/THEME, LAST DATE FOR REGISTRATION: 15/06/2014,
REGISTER ONLINE! NO SPOT REGISTRATION TO AVOID CROWD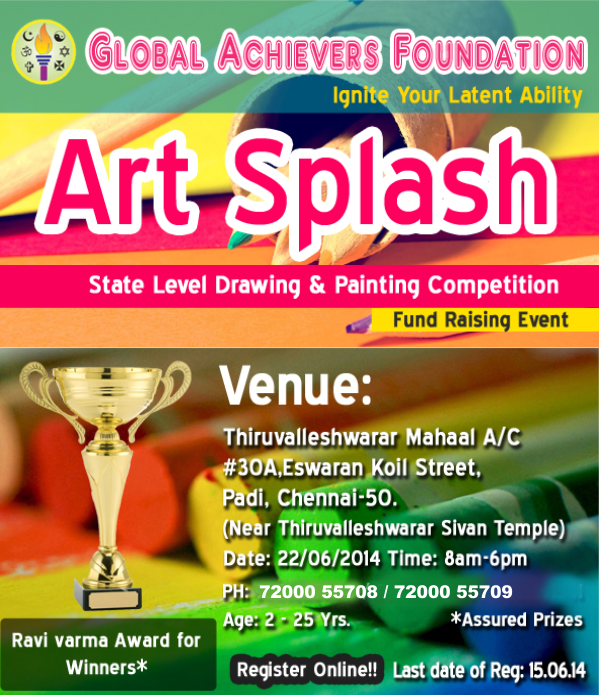 ART SPLASH 2014 – STATE LEVEL DRAWING & PAINTING COMPETITION