JAY ROBOTIX Pvt. Ltd. (http://www.jayrobotix.co.in/) pioneers in multidimensional robotics, has announced ROBOKID 2014, a national level completion across more than 250 schools. The theme for ROBOKID 2014 is 'Our Planet- Our Future', which aims to increase awareness amongst the student community about environment conservation.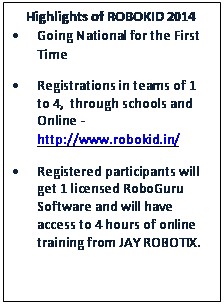 JAY ROBOTIX has announced the call for registrations for the competition wherein students from 6th to 10th standard can register through their respective schools or individually on the http://www.robokid.in/ website.
Post registrations the students will be entitled to a 4 hour online training module free of cost on robot programming and logical skills building; which will be conducted by JAY ROBOTIX.
The training module will enable the participants to learn operating a robot using the RoboGuru Software. Registered students will also get a licensed version of RoboGuru™ software exclusively developed by JAY ROBOTIX. School students from all across the country can participate in the competition.
ROBOKID 2014 will witness the competition in 3 levels. Students can register online individually or in teams of 1 to 4 (http://www.robokid.in) by providing their school name and other details with a registration fee of Rs 900 per student. The last date for registration will by end of April.
ROBOKID 2014 contest for school students