The STATE-FISH ART Contest (an international contest) is open for all children worldwide studying in grades K -12 in any public, private or home-school, any youth group, after-school program, art class, etc., or just an individual kid that wants to enter!
Many Indian Children have won this contest under international section last years.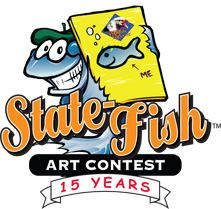 Only one entry per child will be accepted. THE ARTWORK must depict ANY officially designated state-fish (USA) or Ontario, Canada designated fish.  The fish must be depicted in its natural habitat.
For More Details : http://www.wildlifeforever.org/contest/details
For Rules : http://www.wildlifeforever.org/contest/rules
Entry Form for International Participants: http://www.wildlifeforever.org/ftpgetfile.php?id=653
Detailed information about the official fish species available : http://www.wildlifeforever.org/ftpgetfile.php?id=117
Address to send the paintings : 2700 Freeway Blvd #1000, Brooklyn Center, MN, 55430-1779 (USA)
State Fish Art Contest 2014