Stripes (an NGO) in association with Jenis Media & Events is conducting an Inter school drawing and coloring competition on 23rd of February 2014
in Avichi School, Virugambakkam, Chennai. The theme of this event is in line with the United Nations theme for 2014 "International Year of Family Farming". Registration fees per student is Rs.150/-. We are  doing this event in Aid of Cancer affected Children.
The event will be covered by Times Of India, Trinity Mirror, Makkal Kural, Vadapalni Talk, Jaya TV, Sathyam TV, and many more apart from the internet campaign. An advertisement has already come in Trinity Mirror & Makkal kural on 19.02.2014.
The registrations are still open and can be done through online (www.jenismedia.com) or on spot (30minutes before schedule time in Avichi School) or in our office premises till 22nd February. Many schools have accepted our invitation since we are doing in Aid Of Cancer affected Children. There is going to be a grand celebration in the evening and the chief guest includes Cartoonist Bala (from Kumudam), artist Elayaraja and few more.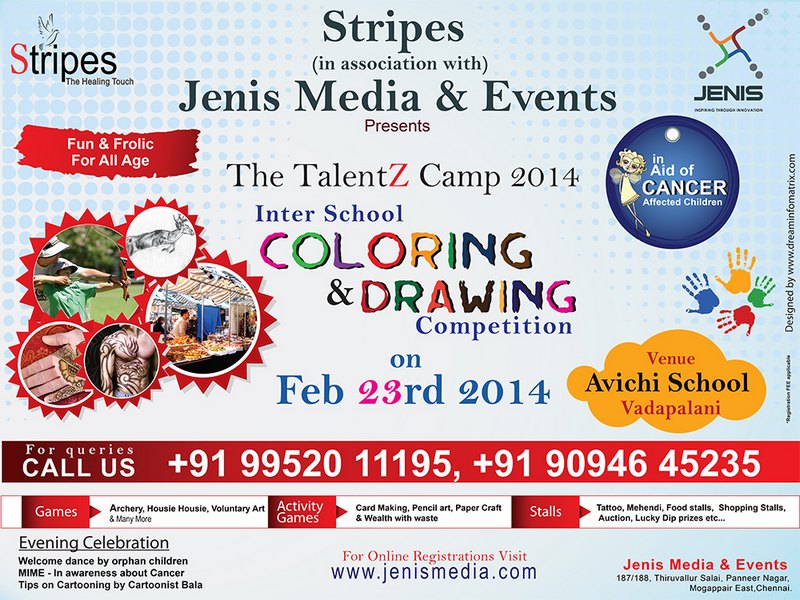 Prize distribution will be held on the same day. All participants will receive the appreciation certificate on the same day.
Fun & Frolic for all age in the venue like, Archery, Housie Housie, Activity games, Food stalls, shopping stalls, etc…
All this is done as a fund raising activity for Cancer & HIV affected Orphan Children. We invite generous hearts to part take in this mega event.
Attached flyers has more details about the competition.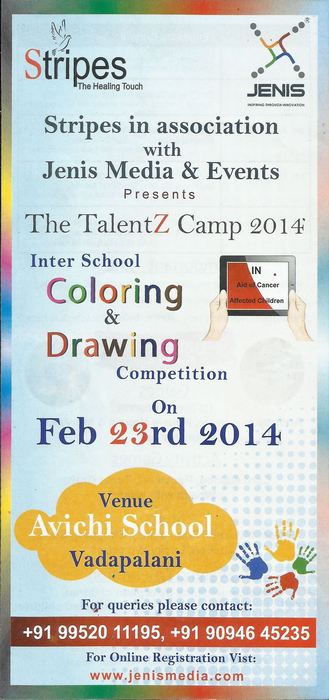 F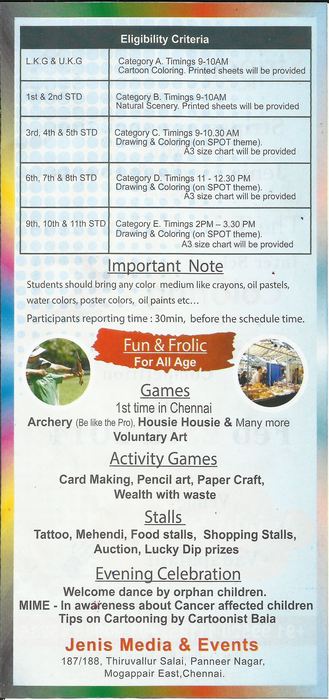 OR MORE DETAILS PLEASE VISIT www.jenismedia.com
Drawing Competition in Aid of Cancer Affected Children