37th Chennai Book Fair – 2014 will be held from 10.01.2014 to 22.01.2014
Elocution and Drawing competitions will be held on 11.01.2014 and 12.01.2014 respectively.
Venue for the drawing competition (12.01.2014) is the Book Fair Venue itself, which is
YMCA College of Physical Education
No.333, Anna Salai
Nandanam,
Chennai – 600 035
Drawing Competition Timing : 8.30 am
Prizes will be awarded for the first 3 winners in each category.
Topics for each category: (Please check again for the topics in the competition poster)
Std I – Std IV :  இயற்க்கை காட்சி  (Scenery)
Std V – Std VIII : சுற்றுச்சுழல் (Environment)
Std IX – XII : பண்டிகை (Festival)
Book Fair Timings:
Working Days : 2:30 pm to 8:30 pm
Holidays : 11:00 am to 8:30 pm
For details of the Elocution Competition and Thirukkural Contest (11.01.2014), please see the poster below.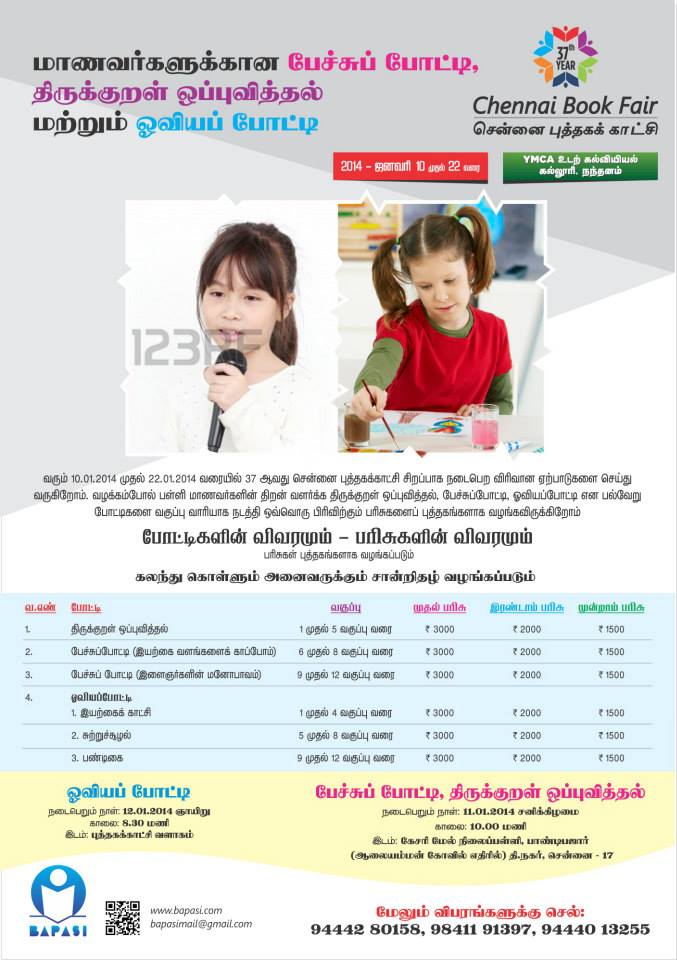 For all other details, please visit the
Book Fair Website: http://www.bapasi.com/
Facebook: https://www.facebook.com/bapasi
37th Chennai Book Fair 2014 – Elocution and Drawing Competitions