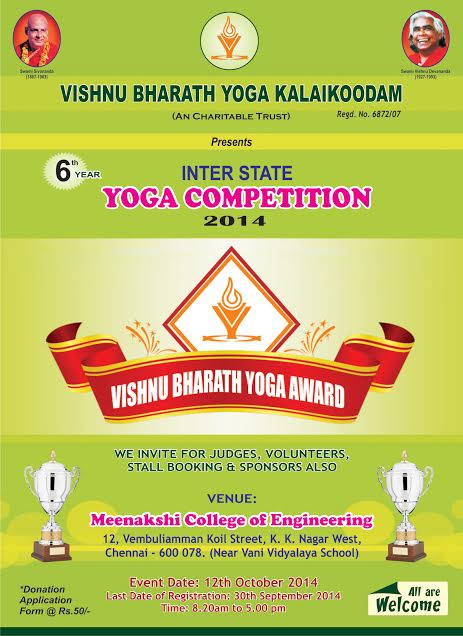 This is "VIBHA TEAM" happy to invite to you the VISHNU BHARATH YOGA KALAIKOODAM (A Charitable Trust) Presents
INTER STATE YOGA COMPETITION 2014 Common,Forward, Backward,Twisting, Balancing Standing,Rhythmic, & Artistic
We are providing a Big Stage for your Children to Express their Inner and Unique Talents. Help them to participate in as many events as possible. Give your child the proud of participation and not Winning. Let them FLY.
EVENT DETAILS
09.00 AM :INAUGURATION
10.30 AM onwards ——————YOGA Common
Age (M&F): for all events.
Room Y1 Below 4, 5-6, 31-40,41-50 Above 51
Room Y2 7-8,9-11,
Room Y3 12-14,15-20,21-30,
YOGA (Common, Forward, Backward, Twisting, Standing)
12.30 PM ———————————LUNCH
01.00 PM onwards ————SPECIAL EVENTS
ALL AGE GROUP
Room Y1
Forward, Backward, Twisting,Balancing, Standing
02.00 PM onwards———————RESULT
(Main Stage) Common
02.00 PM onwards———CHAMPION ROUND
MAIN STAGE
Rhythmic,Artistic, Single & Pair
03.00 PM——————— RESULT (Main Stage)
SPECIAL EVENTS
04.00 PM *PRIZE DISTRIBUTION FOR ALL EVENTS IN MAIN STAGE
We invite Judges, Volunteers, Stall Booking & Sponsors.
All the participants will be awarded a Certificate & Medals.
Venue: Meenakshi College of Engineering –
12, Vembuliamman Koil Street, K. K. Nagar West, Chennai – 78
(Near Vani Vidyalaya School)
All participants can donate for trust development
Donation : common Rs.300/- | SPECIAL EVENTS, RS.250/-
per event|
Till last date if registration : Before 10 days.
After last date registration donation :
common`RS.350/- | SPECIAL EVENTS RS.300/- per event |
No Spot Registration entertained.
ACCEPTED ALL CREDIT / DEBIT CARDS
Event Date: 12.10.2014
Last date of registration 30th September 2014
Time: 8.30 am to 5.00 pm
For more details:
VISHNU BHARATH YOGA KALAIKOODAM
(AN CHARITABLE TRUST)
99622 72688 |99623 72688 |99400 98980 | 99628 98980
E-mail: vibhacompetition@gmail / yahoo.com |www.vibhayoga.org |
Facebook: The Vibha Club