Milou Stores in association with Little Nathella organizes various competitions for children.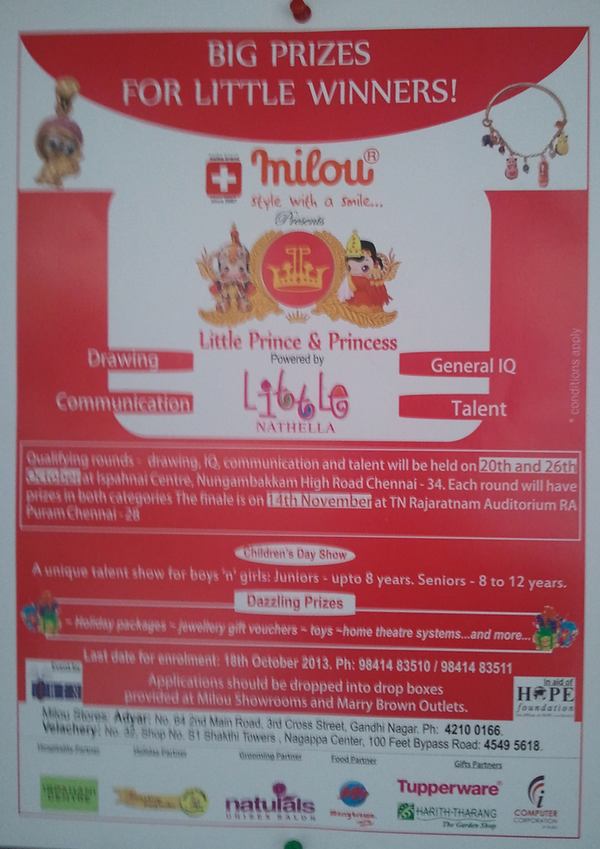 The competitions are organized in Drawing, Communication, General IQ and Talent. There will be qualifying rounds for the competitions which will be held at Isphanai Centre, Nungabakkam High Road, Chennai on October 20th and 26th, 2013. Finals will be held at T.N. Rajaratnam Pillai Auditorium, R.A.Puram, Chennai on November 14th, 2013.
Age Categories : Juniors – upto 8 years; Seniors – 8 to 12 years
Last Date of Registration is October 18th, 2013. Applications should be dropped at the Drop Boxes in Milou Showrooms and Marry Brown outlets. Invoice of any purchase from Milou Showrooms should be attached with the applications. Application Forms can be downloaded from : http://irisevents.in/
All Other details are available in the application form.
Phone: 9841483510, 9841483511
Milou & Little Nathella Competitions 2013