DO RE MI FA–MUSIC & DANCE is organizing a MEGA COMPETITION for the kids, so called……………………
………. CHENNAI CHAMPION"S CHALLENGE……age from 4 years to 13 years…..this is open to all….I wish you to share this to all your near and dear ones…..I am sure that you will make is competition a grand success…..
1. AGE GROUP WILL BE CALCULATED EITHER STANDARD THEY STUDY OR AGE
2 PASSPORT SIZE PHOTOGRAPHS IS MUST FOR APPLICATION…..
1.ABACUS
2.STORY TELLING
3.FANCY DRESS
4.SOLO DANCE( western & folk round )
5.GROUP DANCE( western & folk round )
WILL BE CONDUCTED IN THE AUDITORIUM…..
6.DRAWING WILL BE CONDUCTED 28,29,30 AT OUR CLASS…Dance
solo-2.30mintues and Group dance 3 minutes…….
We are conducting this mega competition at heart city of CHENNAI……T.NAGAR..
GERMAN HALL-T.NAGAR,NO;17,PARAKASAM STREET,T.NAGAR,CHENNAI-600017
ENTRANCE FOR EACH EVENT PER HEAD IS RS-250/=
FOR GROUP DANCE=100RS/= PER HEAD ( MINIMUM 3MEMBERS)….
At the time of registration school id or age proof is must…..
(class DO RE MI FA students will not participate in this competition…..)
CHENNAI CHAMPION"S CHALLENGE app available @ DO RE MI FA-MUSIC AND
DANCE STUDIO,47/81,FIRST FLOOR,SUNDARAM BULIDING,ARCOT
ROAD,KODAMBAKKAM,CHENNAI-24
( NEAR TRUSTPURAM SINGAL,UPSTAIRS TO MIDNITE MASALA RESTAURANT )
DRAWING WILL CONDUCTED AT DO RE MI FA( ADDRESS GIVEN) ON 28,29 AND
30TH OF AUGUST……
CERTIFICATE and MEDALS FOR ALL THE PARTICIPANTS………….
PLEASE READ THE APPLICATION TO FOLLOW…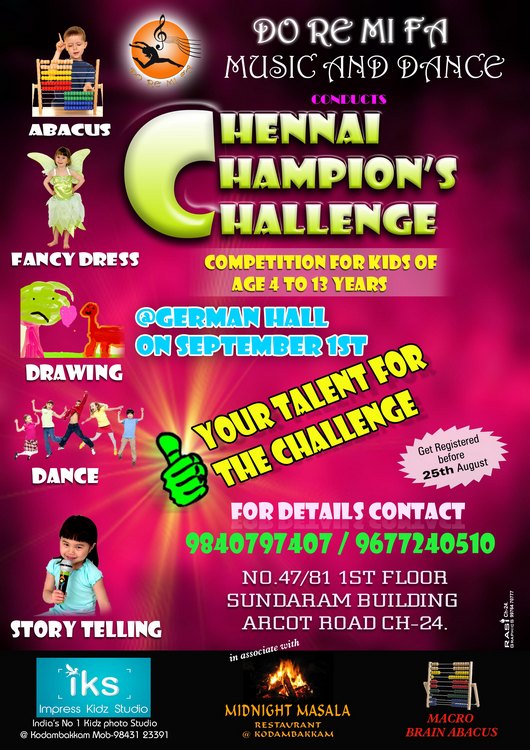 ACCOMMODATE FREE ( SEATS ) ENTRY FOR 5 MEMBERS AT THE AUDITORIUM PER
ADMISSION…..
CALL AND BOOK YOUR NAME AND EVENT FIRST
FOR DRAWING PLEASE COME DIRECTLY WITH THE DETAILS FOR DRAWING ON ANY DATE 28,29 OR 30TH AUGUST……..( AT GIVEN ADDRESS)
SUBMIT YOUR APPLICATIONS BEFORE 30TH OF AUGUST FOR STORY TELLING,FANCY DRESS AND DANCE
CHENNAI CHAMPION"S CHALLENGE by DO RE MI FA–MUSIC & DANCE