Kshitij has organized 7 National & 10 International Child Art Exhibitions up till 2012. The last date for participation for Exhibition is 31st August 2013.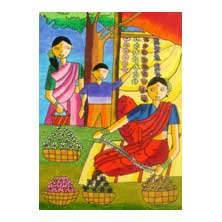 Each Institution/ School or a group of students should send minimum of 20 entries however there is no limit to maximum entries. Below 20 entries will not be accepted. Only Life members are allowed to participate individually. A minimum of 5 entries is require to be sent by a life member from India & 10 entries in case of International life members.
Students can send any number of entries under the categories (Paintings/ Greetings/ Cartoon/ Poem/ Essay-Paragraph-Story). Entries must be made on paper. Entries can be in respect to any subject or theme. The student himself must make entries.
Art works can be made in mediums like water colours, oil pastels, Pencils or Paper Cuttings etc. Poem/ Essay-Paragraph-Story can be a typed matter or written by hand legibly through Ink pen/ ball pen in Hindi or English.
Age groups:
Group A – Up to 1st Standard (Age up to 6 Year)
Group B – 2nd to 3rd Standard (Age up to 6+ to 8 Year)
Group C – 4th to 6th Standard (Age up to 8+ to 11 Year)
Group D – 7th to 9th Standard (Age up to 11+ to 14 Year)
Group E – 10th to 12th Standard (Age up to 14+ to 18 Year)
Group F – For Handicap Participants (No Age Limit)
Group G – For Life Members (No Age Limit)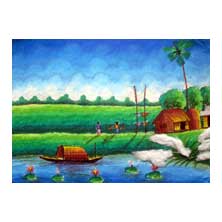 Size of the Painting/ Cartoon should not exceed 15″ x 11″ & Size of Greeting should not exceed 7″x10″.
Awards: 20 Gold Medal and 20 Silver Medals will be awarded for each group. (Medals are plated).
For all other details regarding entry fee and other regulations please visit the organizers website : http://www.kshitij.org/howtoparticipate.htm
Send in your entries to : Kshitij , 642, Sector-4, Urban Estate, Gurgaon-122 001 (Haryana) India
Phone : 0124 – 4076895, 9891128642
Emails : narendermehta@yahoo.co.in or narendermehta@hotmail.com
12th International Child Art Exhibition-2013