VIBHA YOGA ACADEMY
Yoga Asana / Pranayama / Dhyana
Presents…
KID'S & ADULTS YOGA SUMMER CAMP
This yoga camp for kids offers a unique opportunity for every child to experience a happy blooming of their latent potential. It is a fun way to introduce the concept of Classical Yoga, through games, storytelling, and innovative activities. This allows kids to develop and live in optimal health and peace.
Today there is a growing need felt by parents for guidelines and principles which will help children to lead meaningful lives. "Growing With Yoga" helps to fulfill this need. Children should know about their duties in life. Under the guidance of our wonderful instructors, Explore the Benefits of Yoga!
CATEGORY : ON-LINE DAILY LIVE YOGA CLASSES
SUMMER CAMP BATCH-1
24th APRIL to 08th MAY (12 Days)
SUMMER CAMP BATCH-2
08th MAY to 23th MAY (12 Days)
Registrations OPEN!
All participants will be provided Participation Certificate & medal
Choose Your Timing
Timing :06.15a.m. to 07.15 a.m.
Timing :07.15 a.m.to 08.15 a.m.
Timing :08.15a.m. to 09.15 a.m.
Timing :09.30 a.m. to10.30 a.m.
Timing :04.00 p.m. to 05.00 p.m.
Timing :05.15p.m. to 06.15 p.m.
Timing :06.15p.m. to 07.15 p.m.
MODE – ON-LINE – Any City. Any State, Any Country,
MODE – OFF-LINE YMCA-NANDANAM
MODE – OFF-LINE VIRUGAMBAKKAM
AGE- 4 TO 14 YEARS
AGE- 14 YEARS & ABOVE
KID'S @Rs.1800/- only
ADULTS @Rs.3600/- only
This Summer Camp is a perfect way to indulge your children in cultivating healthy habits for the development of the Mind and Body.
KIDs yoga sessions will include:-
• Animal Poses
• Bird Poses
• Mindful Exercises
• Breathing Exercises
• Balancing Poses
• Sun Salutations
Let your Kids Dive into the effectiveness of Yoga!
Enroll now!
Once you complete the registration and payment, yoga session will be started as per the schedule
***Fees Amount once Paid will not be refunded or transferred under any circumstances.
All payments are applicable only for the summer class schedule and not number of sessions.
For More Details contact :
VIBHA YOGA ACADEMY
Call Us : 99400 98980, WhatsApp : 99622 72688
E-mail : vibhayogaacademy@gmail.com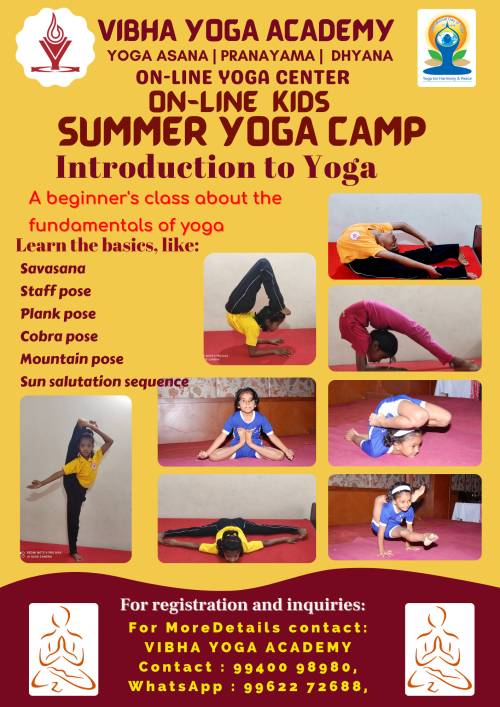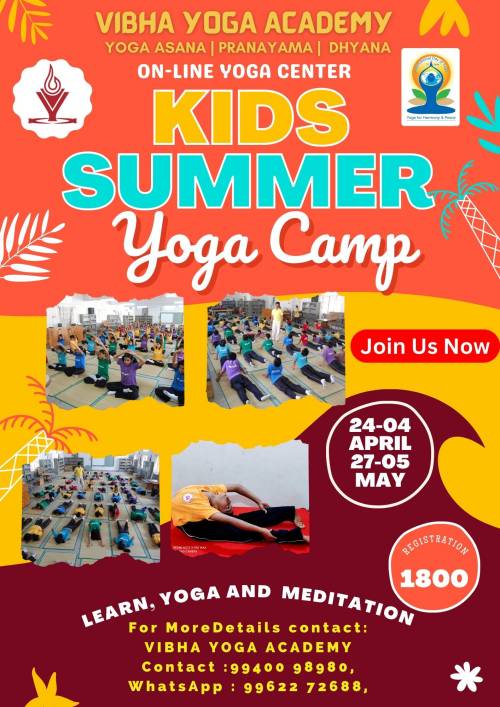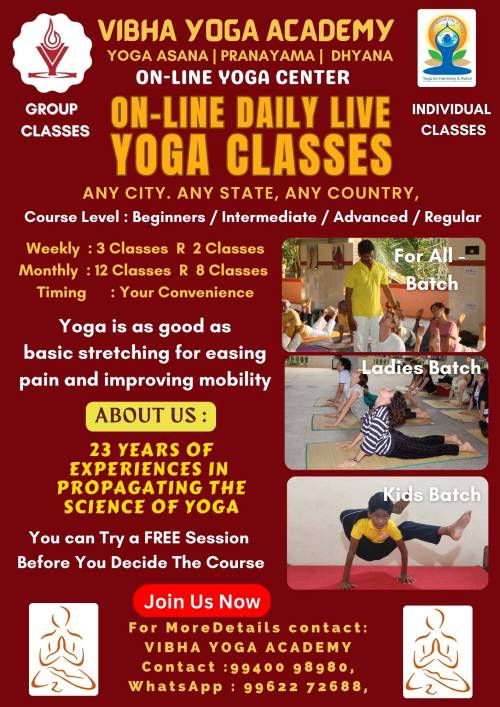 KIDS & ADULTS YOGA SUMMER CAMP 2023