About the Competition !
Kalakriti Art Foundation is a NGO Registered under Society Act 1860, Govt of Jharkhand. Working for the development of art and culture and social service since 21 years. This is the Platform which aims to provide quality solutions to objectives through the medium of Competition.
To recognize Talents under the aegis of Kalakriti Art Foundation, an online art competition is being organized.
Please read and be sure you understand thoroughly the Rules and Regulation for participating in this competition.
ART COMPETITION RULES
The following are the rules for entering the BATTLE OF BRUSH – Season 3, All India Online Painting Competition 2022.
TOPIC/SUBJECT/THEME :
ANY THING OF YOUR CHOICE : There is no any specific topic
GROUPS & PARTICIPATION/REGISTRATION FEE
Maximum 5 Entries per person is allowed with separate fee for each submission :
All the entries will be divided in below mentioned age groups & Evaluation will be done accordingly.
Group A : Class NURSERY/KG/PREP/1 to 3
Group B : Class 4 to 7
Group C : Class 8 to 12
Group D : Graduation & Above (Professionals)
AWARDS & RECOGNITION:
All participants will receive digital participants certificate and a Photo collage.
GOLD MEDAL : 5 Winners from each group will get a Gold medal and National Winner Certificate.
SILVER MEDAL : 10 Winners from each group will get a Silver medal and National Winner Certificate
BRONZE MEDAL : 15 Winners from each group will get a Bronze medal and National Winner Certificate
Others surprises too.
SUBMISSION DEADLINE: Last Date : 28th December 2022
HOW TO ENTER:
Visit www.kalakritisoa.com/bob.html . Fill the form and upload your entry.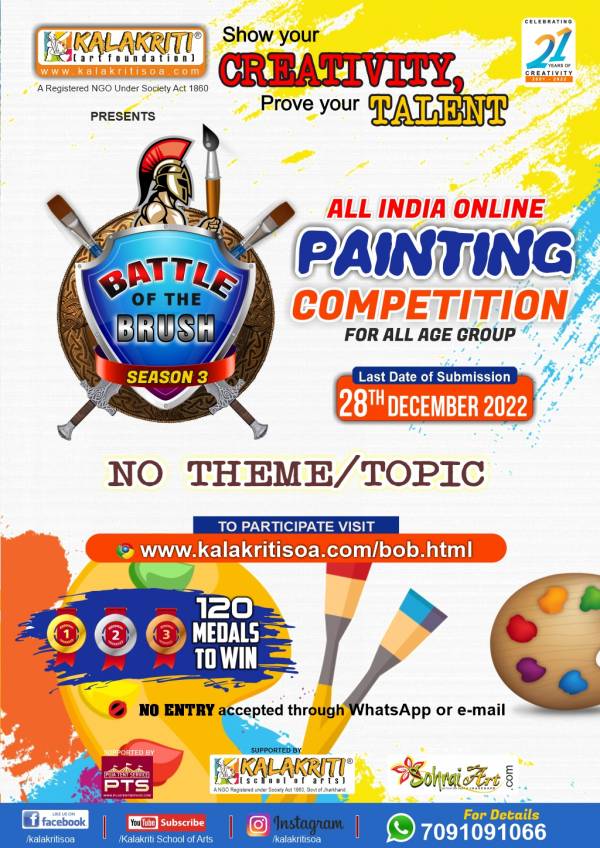 Battle of Brush : Season 3 | National Level Online Painting Contest 2022