Vellore International School, Chennai opens admissions for the next academic Year 2023-24. VIS is a new Residential Co-Education School in Chennai from the management of Vellore Institute of Technology (VIT), one of the premiere Engineering Institutes in the country.
VIS aims to offer ICSE and IGCSE Cambridge education systems for its students. Currently, Admissions are for 5th to 9th grade students only. The school is located at Kayar, near Kelambakkam.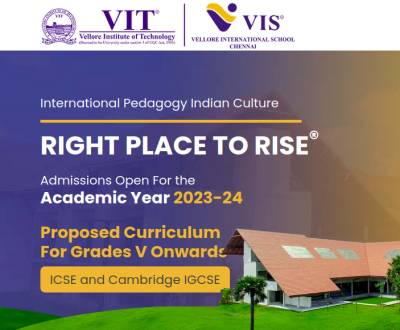 Address: VELLORE INTERNATIONAL SCHOOL (VIS)
Kayar, Near Kelambakkam,
Off OMR, Chennai – 603 110.
Ph: +91 1800 208 9555 [Toll-Free]
Email: enquiry@vischennai.ac.in, admissions@vischennai.ac.in
For Admission Enquiry : https://vischennai.ac.in/