Flying Petals National Level Online Independence Day Special Contest 2022.
UNLIMITED TROPHIES AND MEDALS
Hello Dear Parents,
It is a Great platform to "UNLOCK YOUR KIDS TALENTS"
"Flying Petals" Proudly Presents National Level Online" Independence Day Special Contest " 2022.
Whats App @ 7075374851 for Registration or More Details
CATEGORY A : Nursery, L.K.G, U.K.G
CATEGORY B : I, II, III, IV, V
CATEGORY C : VI, VII, VIII, IX
SPECIAL CATEGORY : Others
Reg Fee : Rs.200/- Per Event
Registration Ends : 31st August 2022
Last Submission : 2nd August 2022
Results : 7th August 2022
Following are the Events…
Hand/Essay Writing
Colouring/Drawing
Veggie/Fruit Art
Music
Fireless Cooking
Dance
Speech/Storytelling
Craft
Thumb Painting
Shlokas / Thirukkural Recitation
Fancydress
Yoga
Rhymes / Poem Recitation
Selfie
Unique / Special Talent (500/-) – They Get a Special Trophy and E-Certificate
All Participants will be awarded with "Medal and E-Certificate"
Participate in 3 events and WIN in
1 EVENT : 1 WINNER TROPHY, 2 Participation Medals.
2 EVENTS : 1 WINNER TROPHY, 1 Winner Medal, 1 Participation Medal.
3 EVENTS : 1 WINNER TROPHY, 1 MEMENTO, 1 WINNER Medal.
Participate in 6 Events and win in 4 Events will get an All-Rounder Trophy and 2 Participation Medals
Prizes increases with increase in the number of Events
Amount paid is Non Refundable or Non Adjustable
Note : Clear Images and Videos(1 – 3 min) is necessary.
Courier Charges Applicable.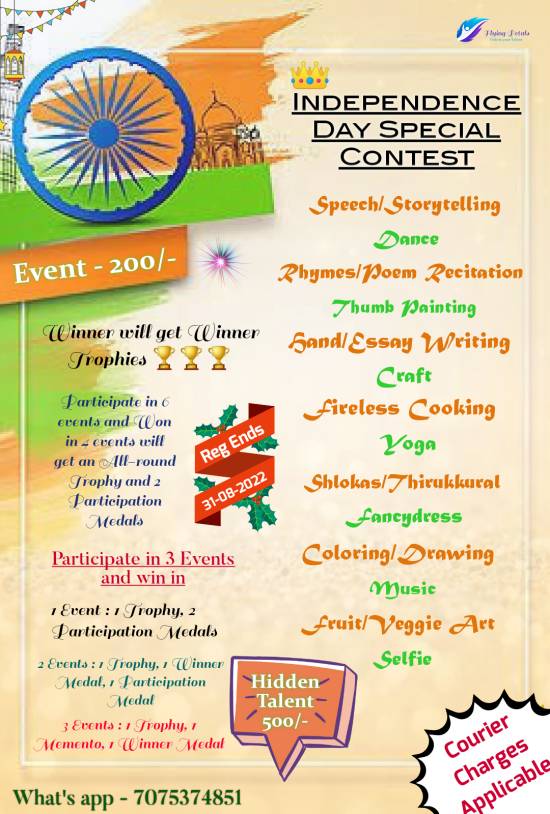 Flying Petals National Level Online Independence Day Special Contest 2022