Path-Builder Foundation invites application for innovative ideas that can create social impact. If you are a young person (17-28 years old) and are passionate about solving a social issue or challenge, we want to hear from you!
The competition aims to identify innovative ideas that looks to address a social issue or challenge in India.
You can take part as an individual or as part of a team
Open to college students (under-grad, post-grad, PhD etc)
Young professionals (if you have less than 3 years of work experience)!
As long as your idea is creating social impact, then you can apply!
Prizes:
The winners of the competition gets a host of benefits from financial to support!
Prize money for winners!
Support to move from idea to implementation, potential access to incubators / funders
Mentoring & career counseling
Feedback from industry experts for the applicants making it to second round
Winner's certificate from Path-Builder Foundation
– The first round of application is set of simple questions, apply using the link below.
– Shortlisted applicants for the second round will have to pitch to a jury of judges
Deadline to apply: 17 July 2022
More details: https://path-builder.carrd.co/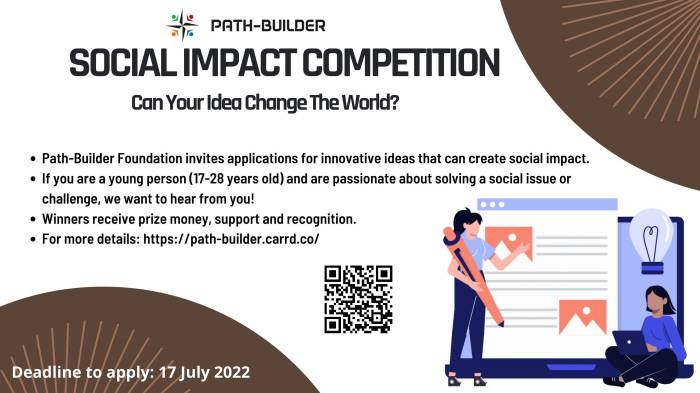 Path-Builder Social Impact Competition 2022