Welcome to *KNACK* *HUNT*
*An International Online Competition 2021*
Do you know we can help you use this time wisely?
You heard it right! If you are looking for online contest and give away you're at the right place.
You've likely heard this a million times, but we'll say it again.
A competition can make or break your confidence.
There's really no strategies or short cut, all you have to do is compete.
We'll help you discover your hidden talents.
4T SUCCESS ACADEMY as a centre enhances educational services to students, school leavers and young adults. And we are more than thrilled to announce our online student's competition has started.
*What Type Of Competition?*
Skill based, Show your talent, in the upcoming competition students are free to show case their hidden talents like Singing, Dancing, Storytelling, Essay, Drawing, Art and craft, Rap, Beat boxing (any)., as per their likeness and preference.
*Who Can Apply?*
Candidates age from 3years are eligible to sign up for the competition
*REGISTRATION FEES: Rs.100/- per event
*What To Present* ? Your talents! Literally
Feel free to show case your hidden talents shot in a video run at 1 – 3 minutes of time frame
We will appreciate if your video is short and sweet.
*Awarding Criteria* :
Have you just wrapped up your sketching, painting and jamming session during this Quarantine?
What if we say you will get rewarded for the same?
All you have to do is get viral.
All you have to do is create traffic indoors.
*Benefits To Students*
**Helps discover your true potential
**Self-evaluation
**Helps show case your hidden talents
**Motivates students to use this time both productively and effectively
**Self-Introspection
*KNACK HUNT 2021* *SHINE LIKE A STAR*
By focusing on your own specific goals, we can support you to master the skills you need to achieve greater independence, confidence and control.
To Register fill the form below https://forms.gle/B3BSzYcXYBpcwfHp6
Email – mailknackhunt@gmail.com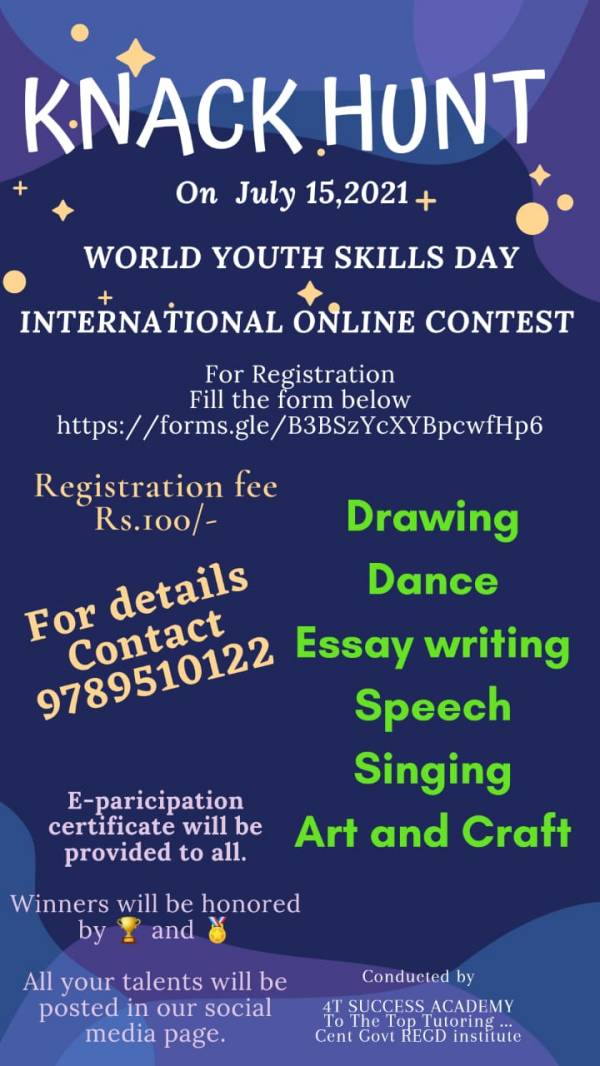 KNACK HUNT : An International Online Competition 2021