Hello Dear Parents,
Fairy kids proudly Presents National Level Online Knowledge Contest
It is a Great platform to Express your kids Unique Talents
Only WhatsApp @ 9959994430 for Registration/ Queries
Payment :9959994430/gpay/phone pay/ paytm
After payment only Fill the below Form : https://forms.gle/BFk4idFTVucjHMW5A
CATEGORY A: Nursery,L.K.G,U.K.G
CATEGORY B: 1st,2nd,3rd,4thGrade
CATEGORY C: 5th,6th,7th,8th Grade
CATEGORY D: 9th,10th,11th,12 Grade
Reg Fee:Rs.200/- Per Event
Last Date for Registration & Submission: 31st May 2021.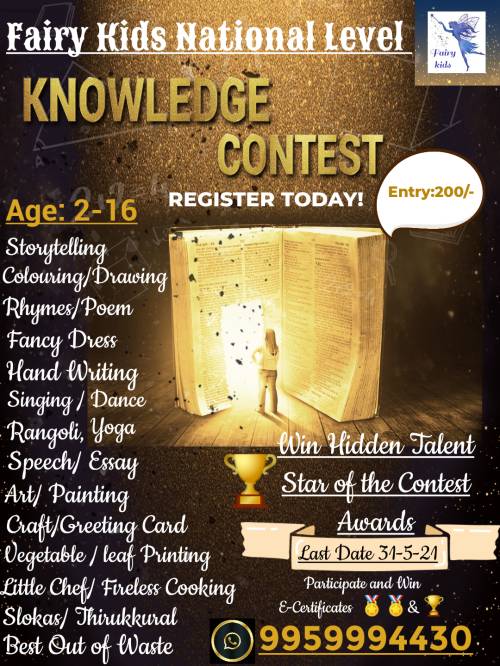 Please Check the Rules Carefully:
Hidden Talent :Send Any kind of Hidden/ Special Talent Of your Child Then Win.
Registration fee for Hidden Talent is 490/-
Hidden Talent Child can get Special Customised Trophy + Best Performer Medal + Hidden Talent E – Certificate
Star Of The Contest Award: Participating/Winning In Any 4 Activities kid can this Customised Trophy + 4 Medals + 4 E- Certificates
Participating/winning in one Activity will be awarded with E- Certificate & Special Medal.
3 Winners will be selected in Each Category.
Registering More than 4 Events have a Discount of RS.50 /- less.
Clear Images and videos Only 1 to 3 mints of your work has to be submitted for any of the above mentioned Topics through Whatsapp.
Note: Courier Charges for Medal 50rs South India and north India 70rs for trophy Courier Charges 80rs for all because trophy weight is high. That is the reason Courier Charges. Amount paid is Non Refundable.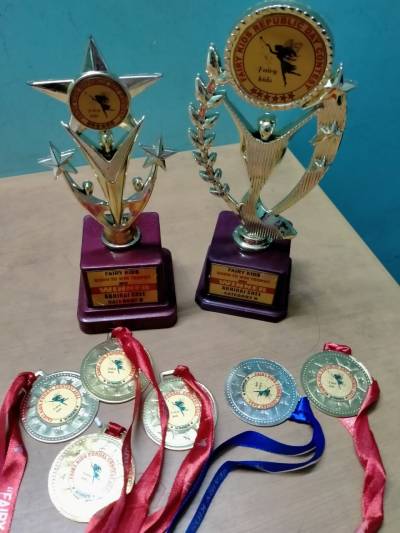 Fairy Kids Presents National Level Online Knowledge Contest