UNICORN KIDS PRESENTS NATIONAL LEVEL COLOURFUL HOLI CONTEST.
CATEGORIES
A- Pre KG, LKG , UKG
B- 1st std to 3rd std
C- 4th std to 6th std
D- 7th std to 9th std
E- 10th std to 12th std
EVENTS
1 . COLOURING (ALL CATEGORY )
2. DRAWING (ALL CATEGORY ) related to holi
3. SPEECH (ALL CATEGORY) any speech allowed
4. DANCE (ALL CATEGORY ) any dance allowed
5.SONG (ALL CATEGORY) any song allowed
6.SLOKAS (ALL CATEGORY) any Slokas allowed
7.STORY TELLING (CATEGORY A,B) any story allowed
8.PAINTING (ALL CATEGORY)
9.CLAY MODELING (CATEGORY A, B, C)
10.FANCY DRESS(ALL CATEGORY)
11.HANDWRITING (ALL CATEGORY)
NOTE
All participants will get e certificate. Winner and runner will be announced in each category. Winner will get trophy+e certificate,runner will get e certificate +medal. If participated in 4 or more competition, and win in 3 or more competition will get over all trophy in each category. Any special talents accepted . Courier charge applicable, registration fees:Rs 180
Last date :2nd April 2021
Result announced: 5th April 2021
Contact number:9176141480.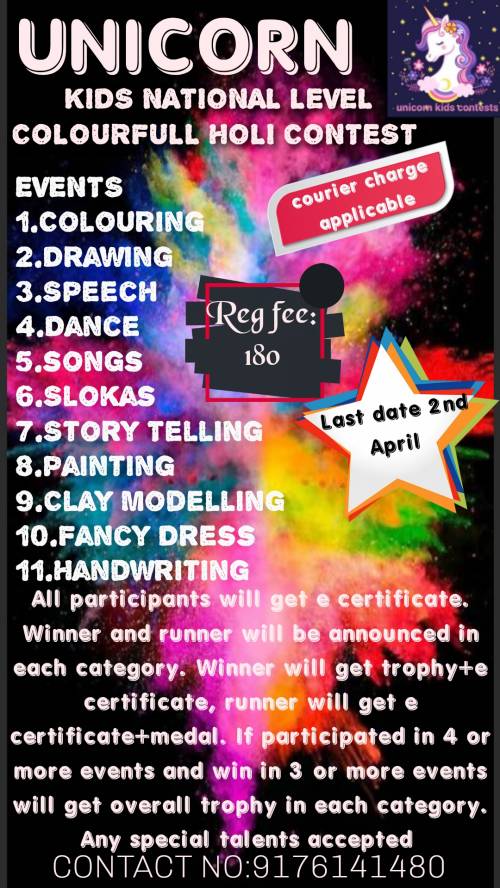 UNICORN KIDS PRESENTS NATIONAL LEVEL COLOURFUL HOLI CONTEST