COMPUDON JUNIOR by CyberLearning Educational Society is a National Championship for junior students on Microsoft's Digital Literacy Standard Version 4.0. The Digital Literacy Standard Curriculum Version 4 teaches generic ICT skills and concepts. This Digital Literacy Championship will test School students' generic ICT skills that are essential for students in 21st Century. There are 2 levels of this school focused championship and top 600 high scoring school students from around the country will be invited to compete in the India Finals round of this National Championship.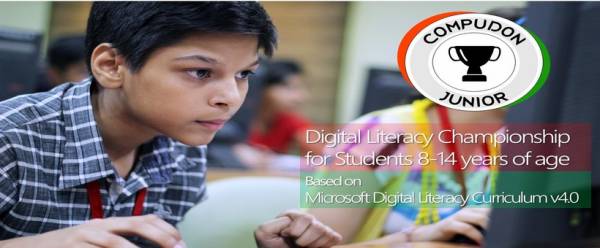 There are over 100 awards to be won which include awards such as Runners Up, Regional Champions, Celebrated Participants, Merit List, School, & Class Awards (subject to minimum participation from participating School) as well.
The Winner will win the coveted title of India Champion. COMPUDON Junior is open to school students between the ages of 8-14 years (as on August 15, 2021).
Complete Details @ http://compudonjunior.in/
Last date of Registration : Monday, June 7, 2021
Qualification Level Exams will be scheduled between Monday, June 14, 2021 and Thursday, 8 July, 2021 (Each School will be given specific dates for the Level 1 exams), Level 1 result will be declared on Sunday, 12 July, 2021.
India Finals will happen on Saturday, August 14, 2021 and India Finals Results will be declared on Wednesday, 11 August, 2021.