BORN TO WIN KIDS Presents Fashion Show – Ramp Walk Contest for kids.
Its is a great platform to express your kids Unique Talents.
Age limit : 3 to 14 years
Category : A – 3 to 5 Years
Category : B – 6 to 8 Years
Category : C – 9 to 11 Years
Category : D – 12 to 14 Years
Event : Fashion show – Ramp walk contest.
Reg fee : Rs 100/Entry
Gpay : 96000 95150
Registration ends on : 31.03.21
Results on or before : 5.04.21
Rules :
1. Please submit payment receipt in WhatsApp along with your kids name and category.
2. Post payment you will be added in group where further instructions and updates will be given thru group.
3. All are requested to stay tuned in group till Result announcement, E-certification and Medal dispatch.
4. Audio for ramp walk will be forwarded by us to you in group after registration.
5. You need to add your kids video along with ramp walk audio and submit to us.
6. 1 Minute video of your kid doing RAMP WALK need to be submitted through WhatsApp.
7. Selection will be based on Dress up and Ramp walk, Attitude, Style and Body language.
8. Winner-up and Runner-up from each category will receive E-Achievement Certificate and Winner Medal.
9. All participants will receive E-Participation certificate.
10. Winners need to absorb courier charges for dispatching Winner Medal.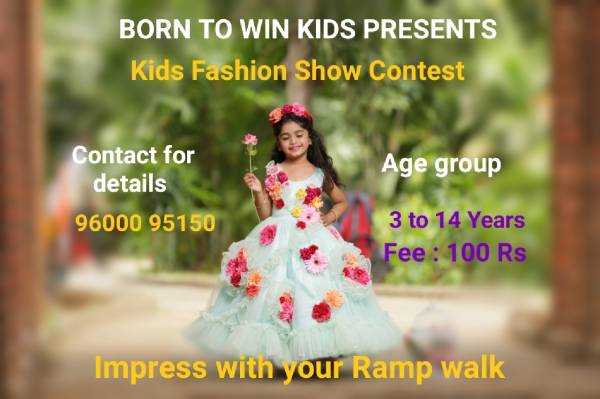 BORN TO WIN KIDS Presents Fashion Show – Ramp Walk Contest for Kids