BNS Purple orchid kids (Let's fullfill little dreams)
Proudly presents "Virtual Annual day Fiesta21"
It's a great platform to exhibit your kid's individual talent to the world.We value each and every kid's talent.
Group A-KG,LKG,UKG(tiny tots)
Group B-1-3 std (seeds)
Group C-4-6 std(Buds)
Group D-7-9 std(flowers)
Rules and Contents will be shared after registration
Registration can be done through whats app @ 8925250607
Strictly no calls allowed,
the competition are as follows,
1.Art contest(drawing, colouring, painting)for group A alone sheets will be provided-
2.Singing(song,rhymes,slogan)-
3.Dance(solo,group,any style)-
4.fancy dress-any theme
5.Thirukural telling
6.Games(words search,word fun,tongue twister,word in a word)
7. Lil chef(flame less cooking)
8.individual talent(writing,speech,face art,art,best out of waste,any talents)
Registration fee:Rs.200/-
Participate in 4 or more event and win "Outstanding kid ' trophy.
All Participants are awarded with e-certificates and sure surprise gift.
In each group 3 winners will be selected and will be awarded winner e- certificate and winning trophy.
In each group 3 best effort award will be given.
Images of the drawing and photo of the kid With the drawing should be submitted.
Note:
1.All participants will be awarded with e-certificates and sure surprise gift.
2.Courier charges applicable.
3.Registration ends on 28 March 2021
4.Results on 1 April 2021
5.Winners Will have to send courier charges upon prize arrival
6.Amount paid is non refundable.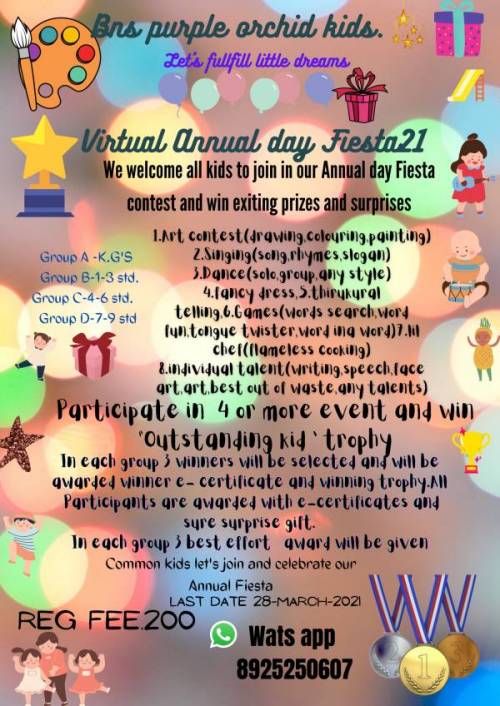 BNS Purple Orchid Kids Virtual Annual day Fiesta21