Kids Talent Hunt 2021 by Unique Events.
GENERAL RULES
# Registration link https://forms.gle/iwBZFp4bCxN9zYb47
# For Registration or any Queries Contact Call or WhatsApp @ 9790894909
# All Registered Participants Will Get Participation e-Certificate.
# The winners Will Get Winner Certificate & Winner Medal through courier.
# Any 3 Competition Winners Will Get Overall Achievement Trophy.
# Participants who wins Overall Achievement Trophy alone should pay additional ₹70 for Courier Handling Charges.
# For Colouring, Browse and download your child's favourite from google of your own to colour & it should be done by the Participant only in A4 Printout.
# For Colouring, Drawing, Craft, Fireless Cooking all making videos must be trimmed or fast forwarded to 1 – 1.5 mins & Final Best picture needed.
# For Fancy Dress, Video of kid describing about the worn fancy dress character/ only name of the fancy dress character & best picture.
# For Rhymes telling & Speech, Only Video required for 1 – 2 mins duration.
# The Competition videos must be trimmed to 1 – 1.5mins & Final pictures along with Kid's name & Class must be sent to WhatsApp no. 9790894909 only on the date 07th MARʻ21
# Last Date for Registration is 06th MARʻ20 & Results will be on 13th MARʻ21
# Judges Decision is Final.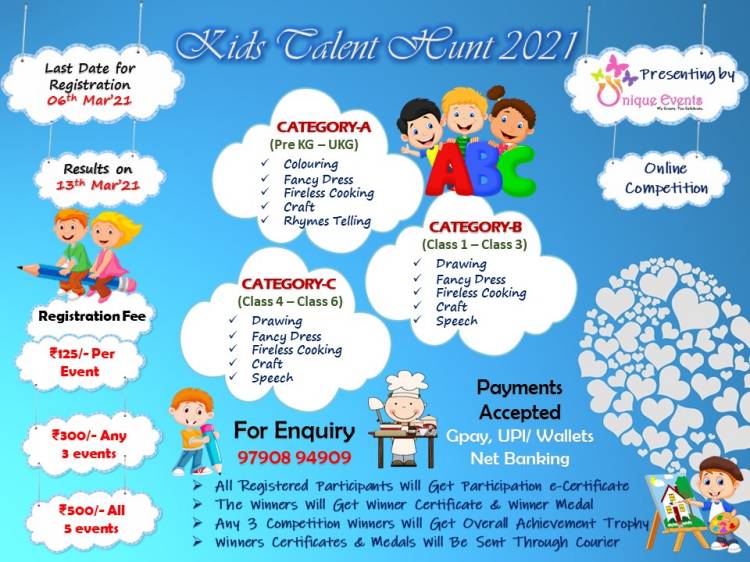 Kids Talent Hunt 2021 by Unique Events