Disney stars presenting All India republic day online contest 2021….
So,here is the great chance to express your talent
So all you need to contact through my WhatsApp number @9066283763 for registration….
Group A: Nursery, L.K.g,U.K.G
Group B:1st,to4th,5th grade
Group C:6th to10thgrade
Registration fee :180 per event ️
Last submission date is: 05-02-2021
Events details…..
Fancy dress (Group All) send photo of participant.theme republic day
Drawing(Group All) send photo of drawing.theme republic day
Hand painting (Group All)send photo of hand painting .
Colouring (Group A) send photo of colouring colouring sheet will be shared.
Storytelling (Group All) send 2 min video of story telling.theme republic day
Craft (Group All) send video of craft.
Dance(Group All) send 2-3min video of dance. Protriatic songs only.
Songs/rhymes(Group All) send 2 min video of song/rhymes . Protriatic songs only.

Payment :9066283763 /gpay/phonepay,paytm available
Note: Winners& participants awarded with medals ️along with e-certificate.winners in 2 or more than events will get chance to win trophy
Note: Winners will be announced according to entries…
Clear images and videos has to send to my WhatsApp number @9066283763
Note: Amount paid is not refundable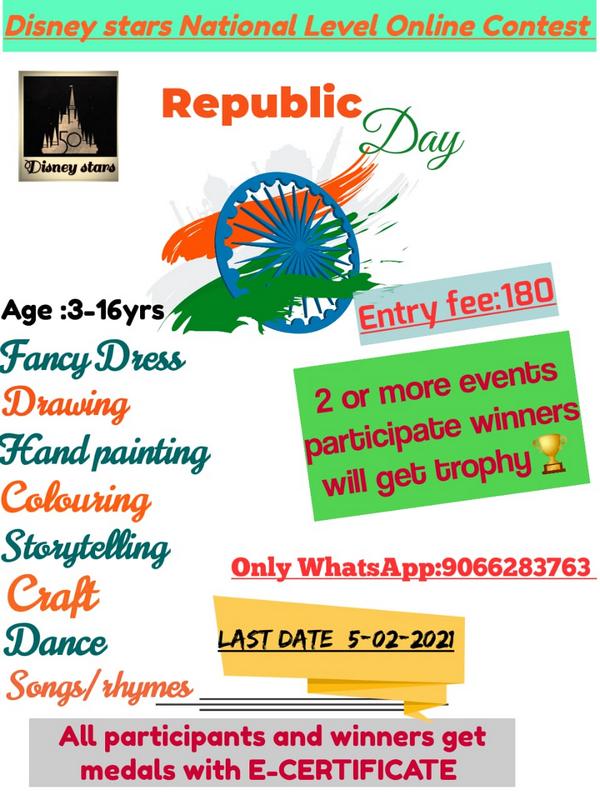 Disney Stars All India Republic Day Online Contest 2021