Twinkling Star Kids Mahakavi Bharathi (Online Contest).
Bharathi is a name that stands for courage, patriotism, and poems. To celebrate such a nationalistic personality's birthday, we are organizing an online competition. Anyone of any age can participate. (No age limit)
𝗥𝘂𝗹𝗲𝘀&𝗥𝗲𝗴𝘂𝗹𝗮𝘁𝗶𝗼𝗻𝘀:
1. Activities should be done only by kids /member, 2 min video is mandatory for all the events. Kindly do not submit old entries or already submitted entries. Duplication if found would be rejected and disqualified at once.
2. Submit the videos through WhatsApp.
3. Event
a) Bharathiyar Kavithai/Poem (with the makeup of Mahakavi Bharathi)
b) Drawing (Any emotion of Bharathiyar)
c) Singing (Wear Traditional Dress)
d) Skit (Minimum 3 members, parents can act)
4. All the participant would receive 'Participation e – certificate'
5. Winners would be awarded with 'Merit e – certificate'
6. Win surprise Gifts/Medals/Trophy.
7. Registration fee Rs.250.
8. Late date for Registration: 13.12.2020
9. Late date for submitting Entry: 15.12.2020
10. To Register WhatsApp – 8610718163.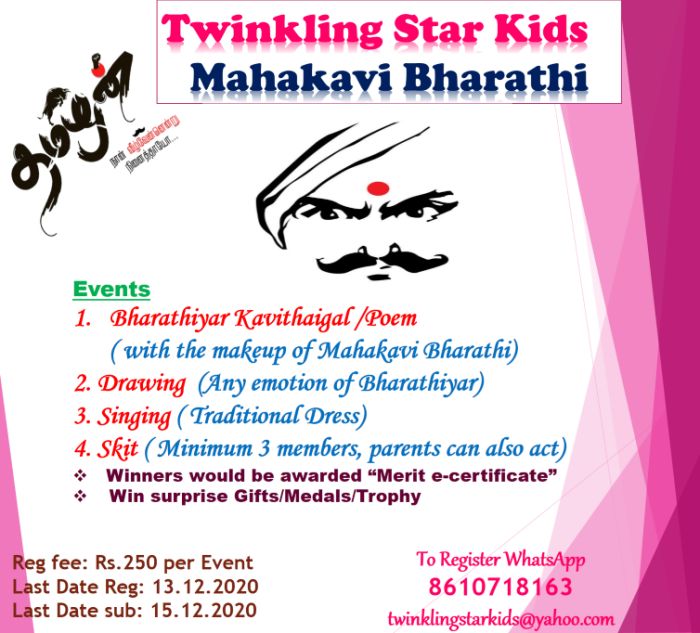 Twinkling Star Kids Mahakavi Bharathi (Online Contest)