Foofy Rhymes, a kids entertainment company that specializes in making brand new nursery rhymes( check out our youtube channel) is hosting an All India Nursery Rhyme online contest for children aged 1-5 years.
Last date of submission 10/12/2020
Winners will be announced on 13/12/2020
Registration fee Rs. 200 payable by paytm to 8939032905 or by NEFT banking( details will be provided upon request)
Send your e-mail enquiry to foofyrhymes@gmail.com to get your registration form
Method of submission of video- via what's ap to the above number or via google drive with link sharing on for larger files.
Only 1 entry and 1 rhyme per child.
The language option is English or local but all rhymes will be grouped under one category.
1st prize- Amazon voucher of Rs5000, 2nd prize amazon voucher of Rs. 1000, and 5 consolation prizes along with participation e- certificates.
So send us your child's best performance.What are you waiting for?
If your child is 6 or above he is not eligible to apply but do look forward to more contests next year where they will be able to apply.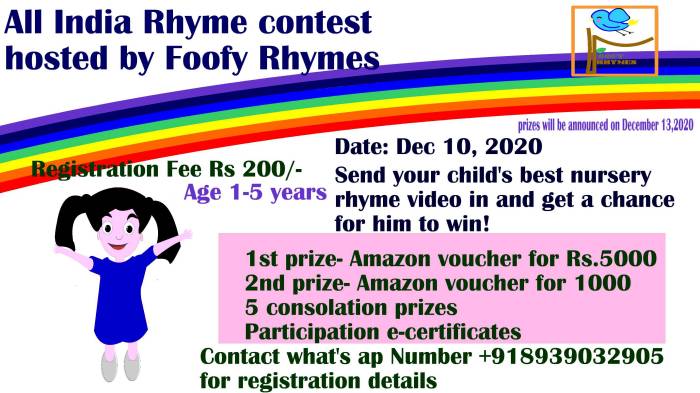 Foofy Rhymes All India Nursery Rhyme Online Contest