Greetings from ColorTree, an online competition platform for creating confidence and inducing the intelligence of school kids.
Coloring has always been an enjoyable activity that demands focus; now, research suggests, it is an activity that is capable of completely relaxing the brain – regardless of age.
The following online coloring competition available for registration till 10-December-2020.
Age categories:
Age category will be Kg – 14 years
Five age groups are,
Kg's
3-5 years,
6-8 years,
9-11 years,
12-14 years.
Theme: Separate Coloring work sheet will be provided for each age groups individually. Participants have to color the work sheet by using color pencil, crayons, oil pastels, etc for best results.
The best art will be selected for winners and runners category.
Winners and runners will be selected from each age group and will be awarded with medals and printed certificate.
The submission should be in the form of videos and pictures.
Participants have to send their details and make payment through gPay, Phone pe & Paytm through mobile number 75300 35907.
Last date for registration: 10-12-2020
Last of submission: 11-12-2020
Date of result: 12-12-2020
Registration fee is Rs.180/- for each competitions should be made through Gpay, Paytm & Phone pe.
All the participants will get e-certificates
Submit images and videos through whatsapp to 75300 35907.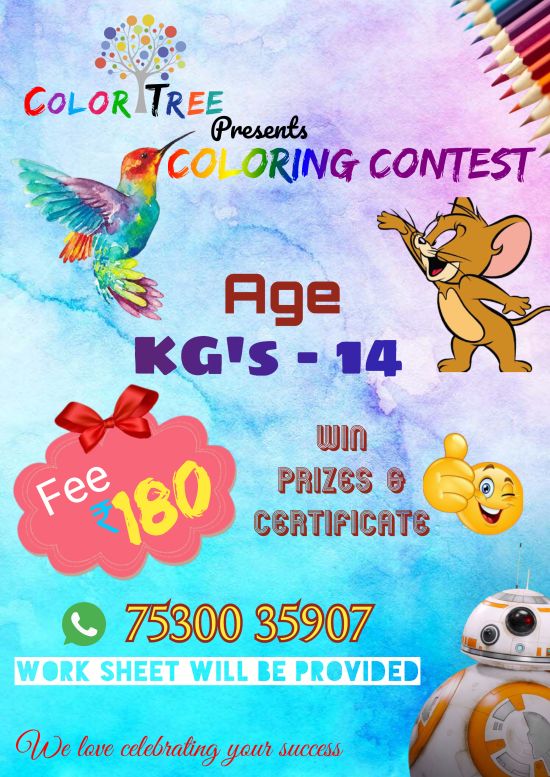 Online Coloring Competition by ColorTree