KIDOOS PRESENTS DIWALI ONLINE CONTEST 2020
HELLO KIDOOS…..AND PARENTS……
"FESTIVE MODE IS ON"
Groups:
Sub-Junior: Nursery to KG
Junior: I, II, III, IV, V
Senior: VI, VII,VIII, IX
ENTRY FEE PER EVENT 149/-
Registration Ends: 30-11-2020
Submission: 2-12-2020
Results: 5-12-2020
Following are the Events::
Colouring (Sub-Jun) – Online sheet will be shared
Drawing (Jun & Sen) – My Crakers Box
Craft: Any related to Festival
Dance: Any
Rangoli: Use colours/ flowers
Dress up:Traditional Dress
Speech: About Ur Favourite Festival
Rhymes:Any
Singing: Any
Diya Decoration
Garland Making
Storytelling: Moral/ Mythological
**All Participants would be Awarded with "
MEDAL
" and "E-certificate".
**WINNERS would be Awarded with "
WINNER MEDAL
"
and "E-certificate".
**Winner of Minimum 3 Events would be awarded with "Trophy/Shield" .
**Activities should be done only by kids, 2 to 3 mins video is mandatory for all the events. Kindly do not submit old entries or already submitted entries.
NOTE::
Courier Charges 50/- Applicable.
**For Registration WhatsApp::
9515650093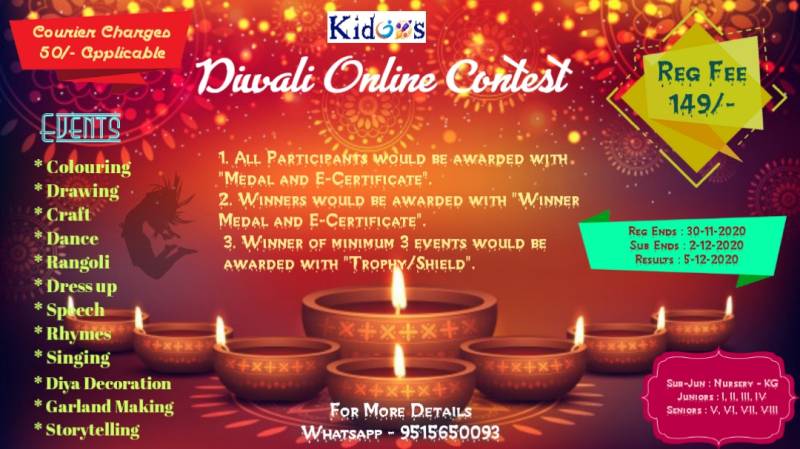 KIDOOS PRESENTS DIWALI ONLINE CONTEST 2020