Kompete invites students to participate in a unique art challenge of a Hybrid Animal.
Individual Participation
Participation from Home
Participation will be considered in 3 age groups – 6-9 years, 10-13 years, 14-17 years. Completed age as on 31st Dec 2020 will be considered
Registrations shall be open for a limited time.
Registration Deadline : 31st Dec 2020 11:59 PM
Submission Deadline : 15th Feb 2021 11:59 PM
Participants can choose any two animals of their choice. (Birds not allowed)
Participant is expected to create an artwork of a hybrid animal which is essentially the hybrid of the chosen two animals
Artwork to be created in strictly A4 size
Any form of art can be used. Digital art not permitted.
Artwork needs to be scanned in colour and email using google drive or wetransfer to the email id eklavya@kompete.in
Organizer Contact : +91-22-40273718
Complete Details @ https://kompete.in/competition-detail/57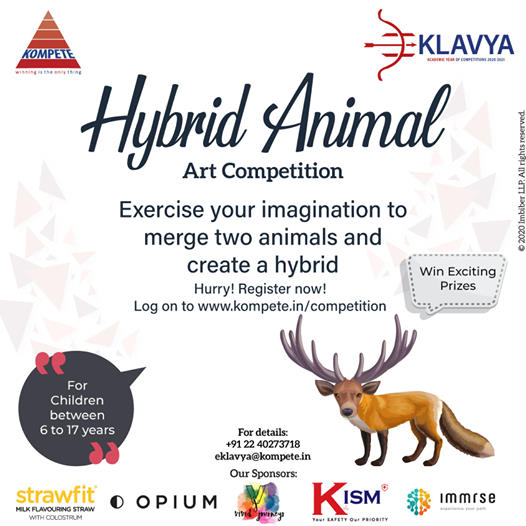 Eklavya Hybrid Animal Art Competition from Kompete