VIBHACONTEST – 2020-21 ( INTERNATIONAL SPECIAL DAY CONTEST ) MONTHLY ON-LINE COMPETITION
COMPETITION – 06 MONTH OF. OCTOBER
THEME : (TOPIC) FLOWERS – ROSE SUNFLOWER / DAHLIA / JASMINE / LOTUS WATERLILY / HIBISCUS / IRIS / DAFFODILS /ASTER / ROSE / TULIPS / DAISY
VIBHASCHOOLS THE ON-LINE COMPETITION LEGEND
Hello Everyone This is "VIBHASCHOOLS"
FLOWERS – ROSE is the Theme
A flower, sometimes known as a bloom or blossom, is the reproductive structure found in flowering plants (plants of the division Magnoliophyta, also called angiosperms). The biological function of a flower is to facilitate reproduction, usually by providing a mechanism for the union of sperm with eggs. Flowers may facilitate out crossing (fusion of sperm and eggs from different individuals in a population) resulting from cross pollination or allow selfing (fusion of sperm and egg from the same flower) when self pollination occurs.
With the new day comes new strength and new thoughts and celebration of special days. Childrens enjoy the special days and have memories about the day. Make them open up their minds and allow it expose in their art, writing etc.,
CATEGORY : TINY TOTS SUB-JUNIOR JUNIOR SUB-SENIOR SENIOR SUPER. SR
GRADE : NURSERY,KG, I.II.III, IV.V.VI, VII.VIII.IX, X.XI.XII UG, PG
EVENT CATEGORY :
COLORING (OR) DRAWING / ESSAY WRITING / HAND WRITING / FANCY DRESS / STORY TELLING / STORY WRITING / ORATORY / RHYMES / PERSONAL TALENT / / SLOKA TELLING / SINGING / THIRUKURAL. THEME :(TOPIC) FLOWERS – ROSE
– The competition is conducted all over the World with different Theme (12 topics) every month
– The competition consists of ONLY ONE level .
– Competition is on-line
– Individual to contact thro' mail or whatsapp, make payment and send the competition materials (Drawing sheet, Photos, Handwriting, Essay writing, Video etc.) thro' whatsapp or mail. Theme of the event is the respective festival. Video timings should be between 1-3 mins.
– Donation is Rs.150 per event
– An application donation Rs.100 per applicant to be made
– A student can participate in any number of events
– All participants will be provided Participation Certificate for each event*
– Merit certificate & medal will be given to the Winners*
– If a individual participates in 12 events and win 6 events, a cup will be given every month. If a individual wins 12 cups in a year a Big Trophy will be given free. Likewise if a participant wins in a year the respective cup will be given*.
– The Decision of the judges will be final and binding
Start Date : 01/10/2020 End Date : 01/11/2020
Last date for Registration 18th OCTOBER 2020
Last date for Submission 28 th OCTOBER 2020
(Drawing, Handwriting, Photos Video etc.)
Contact : 99400 98980 / 99622 72688
E-mail : vibhacontest@gmail.com
E-mail : thevibhagroup@gmail.com
WhatsApp : 9962239888 / 9962287888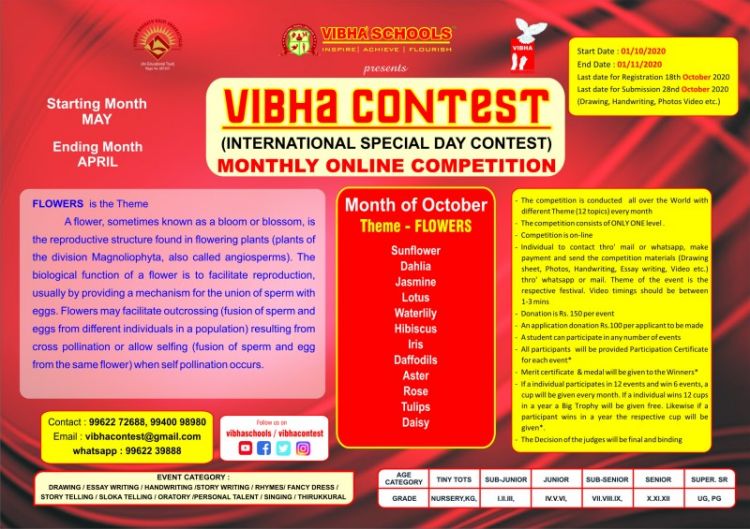 VIBHACONTEST -2020-21 MONTH OF OCTOBER