Smart super stars presents BEST BRAIN TWISTER AWARD online competition 2020.
Groups :
Group A: KG's
Group B: 1-3 class
Group C: 4-6 class
Group D:7-12 class
GROUP E- 12+ ALL
Note:
1. We send the colorful words but kids should be read the words colour only not read the word , complete this event correctly within 1 min, take a video and share with us through the following WhatsApp to 9443667398.
2.Last date for submission 15th OCT 2020.
3.Payment can be done through online(Gpay accepted) .
4.In each group 2 winners(each group 5 will select – total 10 winners ) will be awarded with winner certificate and memento/trophy.
6. All participants will get certificate.
7.Reg : RS.250 .
8.Result will be announced 18th OCT 2020.
For more details please contact: 9443667398.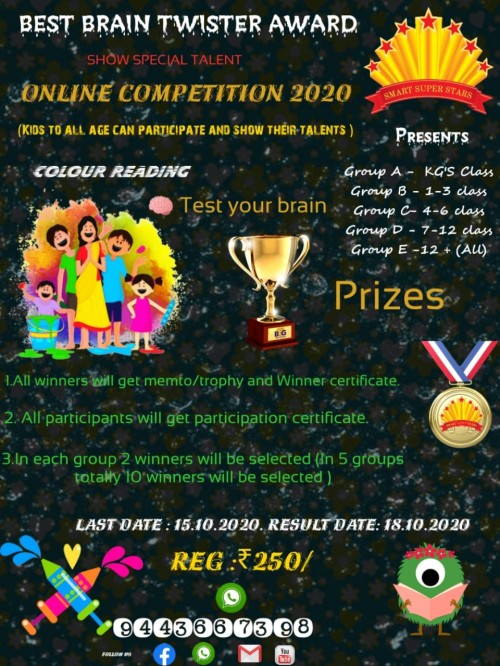 Smart Super Stars BEST BRAIN TWISTER AWARD Online Competition 2020