Online Singing Contest -(October & November, 2020)
Students compete together category-wise based on age group .
Please do open respective age group's link for all required details , registration & submission :-
Minimum Time Duration : 2 – 3 min (*Requirement)
Last date for registration and submission is November 20 , 2020 .
Reg. fee per entry :-
Pay Rs 50/-
Payment method :-
Gpay / Phonepe / Paytm to 7339206263
or
https://www.instamojo.com/@artdreamexpressstudio/
If you prefer bank transfer , contact via whatsapp to 7339206263 . Details will be provided .
Ways to submit your video :-
Upload video directly in the provided slot below
or
Upload your Singing video in your own google drives and copy & paste the link in the below allocated slot.
Karaoke or background music can be used but with moderation .
Please take the student's performance as a single take without cuts and edits in the video.
Students are asked to say your name and age before starting to sing your song
Results will be declared on or before November 30 , 2020 on our fb page .
https://www.facebook.com/Artdreamexpressstudio-101529708278951/
Winners will be awarded with exciting cash prizes and e-certificate .
Maximum File Size ( payment screenshot ) = 100 MB each .
If any doubts please contact via whatsapp to 7339206263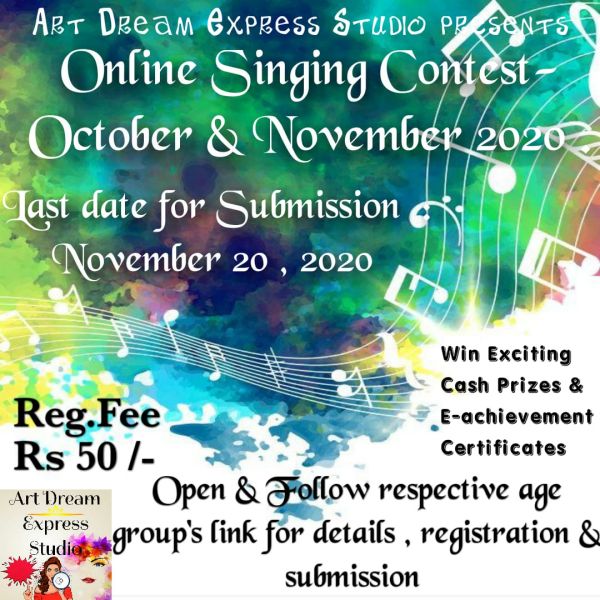 Online Singing Contest (October & November, 2020)