Dr. Sarvepalli Radhakrishnan, one among India's greatest presidents, devoted his birthday to the celebration of teachers and the value they bring to society. He once said, "True teachers are those who help us think for ourselves."
We salute the great man and bring to your children a challenge that will sharpen their minds – an endeavor to honor Dr. Radhakrishnan.
Presenting the 10th edition of the Speaking Challenge; a contest where children will be given a platform to not just think for themselves but also to voice their thoughts freely!
Register now @ https://tinyurl.com/meliosc10 or call-whatsapp us at 9902081632
Venue Address: Online Competition via Zoom.
Age Group: Under 8, Under 10, Under 12, Under 16
Event Date: 1st-5th September 2020.
Timings: Qualifier round is 3-9 pm on Tuesday, 1st September. Final is 10:30 am-1:00 pm on Saturday, 5th September
Event Fee: 299
Creative/Art Work for the event (high resolution image): Attached
Link to Book Tickets/Registration: https://tinyurl.com/meliosc10
Contact Person: Gunjan Shah
Contact Number: 9902081632
Email Id: support@melio.co.in
Website: www.melio.co.in
Facebook Page: https://www.facebook.com/Melio-126278072105875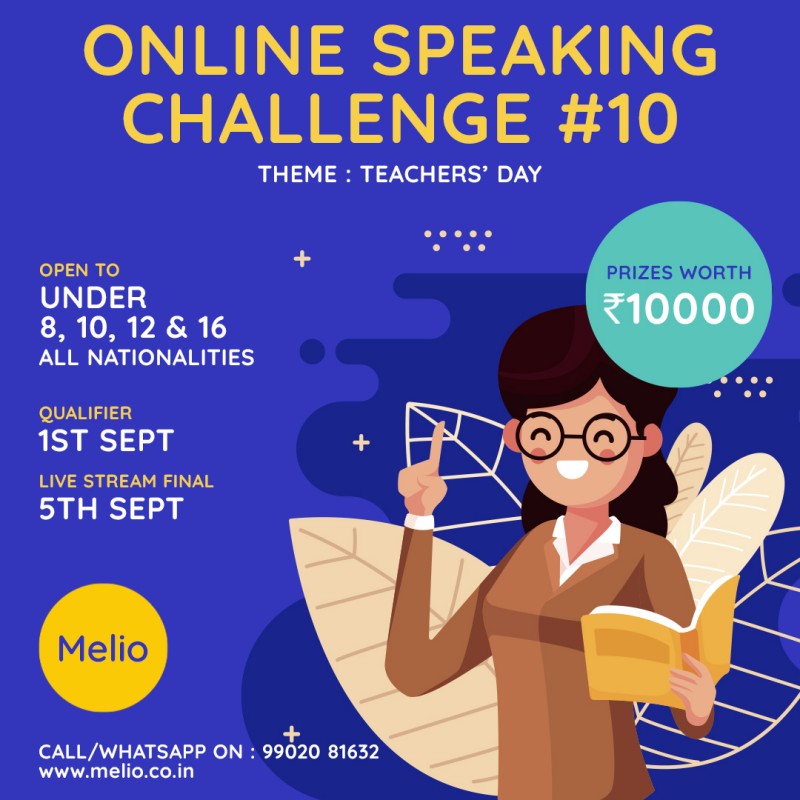 Melio Online Speaking Challenge #10